Last night at midnight, Theresa was here with me watching Bianca's every nervous move. We decided it was time to go get some supplies just in case. So we went to WalMart to pick up mini baby bottles and a heating pad. Weird people shop at WalMart at midnight! Um, yah like us, I guess.
All night Bianca was hopping on my bed cuddling. She was so nervous and wanted me to hold her. By 5:30 am she was up and running all through the house looking for a place to hide. What? Our special birthing room wasn't good enough for her? Finally she settled for it and laid on her side. This was a total mother-daughter thing. Maya and I laid on our bellies on the carpet in front of the box and watched as she went into labor. We put on our surgical gloves and were ready to go to work. Theresa wasn't there until the second puppy came and Patrick wa sinthe living room and DeAngelo was at school. It all came down to me and Maya.
The first puppy came out easy around 9:30 am, and Bianca took a lot of care with it, cleaning and all. We didn't have time to cut the cord because the second puppy came at around 11 – just when the first one got cleaned off! Bianca was so tired I had to push her over to clean off what was to be the Jan Brady (middle child) of the bunch. She couldn't get the membrane off so I had to help. The same with the third one. I'd go into more detail but my eyelids are really droopy right now. Luckily Theresa came to the resuce and helped us take care of them.
I'll spare you the gory aftermath scenario, but in the end they all came out healthy and happy. We don't know if they are boys or girls yet so we have named them Lucky, Happy and Cutey for now. We will be so sad when it is time to give them away 🙁
Once it was all over Patrick came and gave me a big kiss and a hug. He didn't think me, formerly known as Wimp Girl, could pull this off. I didn't even gag once, even when the blood and poop came into play.
So, I'd like to introduce you to our newest members of our familia…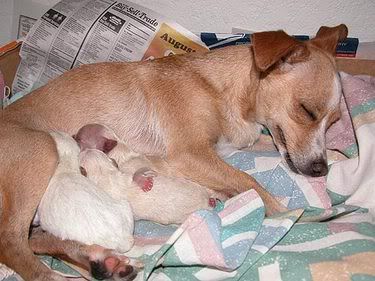 and here is Bianca saying, "And I got my figure back in no time at all!"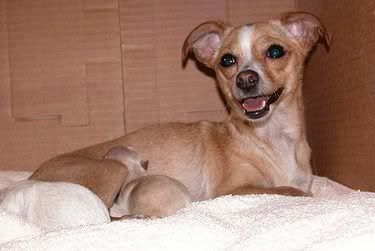 Thanks to Theresa for taking these happy pictures!!
I'm so sleepy, I think I've had, like, a couple hours of sleep since yesterday. Must recharge for tomorrow!


See more crafty ideas in The Crafty Chica Project Library! All content/photos copyright, © Kathy Cano-Murillo, 2008.