Ahhh, life is so sweet. Last night (or maybe it was the night before) at 2:30 am, I finished up the second Crafty Diva book. I think I'm perky-worded out for the next month. I know there will be revisions from my book editor, but they won't come until next week. So I took tonight off to clean house – no silly, not my *home* house, my *cyber* house. I refreshed all the sites and even created a much-needed mailing list over at Yahoo Groups.
Here is the link in case you want to join.
I spent HOURS pouring over all my info, making sure to get everyone on the invite list. Once I did that, I started testing all the features. By the time I was done, 30 people had already signed up as members. Then I noticed that SIX messages had already been sent out. Who sent those? I thought.
I DID!
Within 30 minutes of signing up, those poor 30 peope had already recieved six emails from me. Goofy stupid test emails. I checked my mail box and one person sent me a reply:
"Stop spamming you piece of crap.
Die spammer Die"
OK, being an insecure middle child that yearns for acceptance from strangers, this came as a wicked blow to me. Good thing Aunt Flow isn't coming soon, otherwise I would be crying and eating chocolate covered ANYthing right about now. I wrote them back and apologized for being such a Yahoo Group idiot. So embarrassing!!
On a happier note, Patrick has been cranking out so much art! This is the first time in years that we are making stock this much in advance. This is what he made today. I love it so much, I want to share it with you: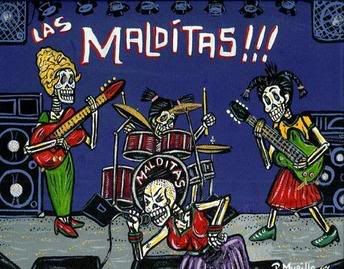 Las Malditas translates into "the bad girls".
Other news
DeAngelo got his cast off this week!
The puppies' eyes are opening! They are little slits right now, but you can see them blink.
I got really good news to share, but again, I have to wait until it all goes thru so it doesn't get jinxed!
The Austin Craft Mafia just found out that they got their own TV show on the DIY Network. i can hardly wait until it airs! Send them a note to say congrats! It is going to be like The View meets a hipster clothing/fashion version of Martha Stewart. OK, maybe not Martha, but you know what I mean!
My lovely cousin Stephanie found out she is having baby number dos!


See more crafty ideas in The Crafty Chica Project Library! All content/photos copyright, © Kathy Cano-Murillo, 2008.