I bet you never thought you would hear that from me!
I didn't think so either until I was covering a wood box with the stuff, sneezed and had the corner of the box go straight in my boca grande. That was this morning and it's well past midnight and I still have granuales floating across my tounge and stuck between my teeth. It's a first for me. So, just so you know – glitter is lovely until you accidently get it in your mouth. Then it's gross and gritty.
Other than that, life is niftier than shopping at Target on a Sunday. I have to give a shout out and cyber hug to my dear friends Kitty and Christine in Seattle (authors of Wild With a Glue Gun,)who went way out of their way to send me an extraordinary flower arrangment today. Imagine the surprise on both mine and Patrick's faces when a mysterious flower man walked up to our doorstep with a huge bouquet with my name on it. I took the vase and turned around to walk inside the house and Patrick was "rightTHERE".
"Those are beautiful, who are they from?" he asked all non-chalantly with a veneer of nosiness…
He makes me giggle. Anyway, they are gorgeous and the house smells yummy because of them. Thank you Christine and Kitty!
Last night my sister-in-law took two of the puppies to their new home (her house). I miss them already, but life sure is easier now! We kept one, the one that looked most like a Chihuahua and named her Cha-Cha.
I made white chocolate sugar skulls. But I'm pissed that they ran the picture in black and white. Those things took me hours to make, and I used six colors of icing! The B/W picture doesn't do them justice at all.
Next week, check out the December issue of Better Homes & Gardens, there is a story on my dad and the tamales he makes. He got invited to go on TV to make them too. I can hardly wait for tamale season. It is usually signaled by the red cups at Starbucks. I don't expect you to make the connection, it's me, I'm loopy tonight. Been painting my booty off all week in time for tomorrow's big show. Hope it was worth it!
One other cool thing that happened this week was I got to tour the new 364,000 square foot IKEA store that is opening next month in Tempe. It's sooooo RAD! Cooler than a snow cone in Canada I'm telling you.
Downside?
I had a bad toe and I wore heels to the tour, so by the end of the three hours, my whole left leg got super-duper sore and I had to go to the doctor the next morning. He laughed when I told him my why my leg hurt. He and his wife have been anxiously awaiting the opening, and hearing that I threw my leg out while touring the grandioso grounds made him get all goose pimply.
He diagnosed me (I'm going to be fine) and then had me hold on. He came back in a few minutes later with another doctor who was also thrilled to hear I had just come from witnessing the adventure that is IKEA. I told her all about it. She gasped when I told her they have a restaurant area AND a bistro that bakes hot cinnamon rolls that you can smell as you exit. The place is like Pottery Barn, Target and Home Depot all rolled into one. Uncountable crafty opportunities!
Look at this darling painting Patrick did this week. It's one of many he whipped out. Isn't it so cute? It's a lady at a beauty shop…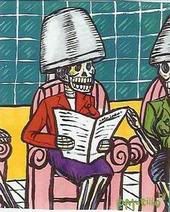 ***
* All content/photos copyright, © Kathy Cano-Murillo, 2008.