Theresa, Maya and I made it safe and sound to the City of Angels on Saturday. Our ultimate quest? To master three segments on the new summer season of "DIY Jewelry Making" for the DIY Network. But before we could get down to business we arrived a couple days early to soak up the town. We rented a bright red SUV and hit the streets. We shopped at The Grove (I bought some Bollywood-inspired jewelry), Venice Beach (parking ticket!) and Rodeo Drive where we bumped in the lovely Maggie Gyllenhaal and her boyfriend, Peter Sarsgaard. I've interviewed both of them twice for work, and even though they didn't know me from a fallen ATM ticket in the gutter, it was very thrilling to see them in their everyday habitat. Oh, we went to the beach too. It was raining that day but it was the one attraction Maya was looking forward to the most. She came back with mucho seashells.
On Monday we went to visit my friend Dora who works for theatrical publicity at Disney. She invited on to the Disney studio lot (huge!) to eat lunch in the commissary there. Her job is so cool and chic, all she does is hook up a-list talent with A-list journalist. While we were eating our Mandarin Chicken (very good), Dora was hooking up a screening and then a lunch with Willem Dafoe and the L.A. Times film critic.
After we were finished we headed over to Media City Studios in Burbank to practice our segments. Media City is a large studio lot where all kinds of shows are taped starring everyone from Kelly Ripa to Carol Duvall. For the past two weeks it was set up for Jackie Guerra's jewelry making show. I love watching how-to shows on cable channels but don't really know what goes into them. Now I know. It's very exciting. On practice day, you go in and lay out all your "step outs", showing how you make your piece, as well as laying out all your samples for the producer to see. She picks one to be the "hero", the actual item you will make on the air. Then you demo your segment while the producer times you with a stop watch. Mine went pretty smooth but Maya needed a little help in the "hamming it up" department. Veronica, the producer, did cheers in front of Maya to try and get her to loosen up. Finally it took Jackie to come out and hug Maya and give her a supportive speech. It did the trick! We went back to the hotel after another hour of practice and practiced more.
We got to the studio on taping day at 7 am. We practiced more, except this time in front of about 20 people who gathered around the table. Rick the set designer, spent the whole morning meticulously arranging up our sample displays. There was one person to pick up lint, one for the mic, one for make up, etc. There was someone for everything! We had our own dressing room with our name on it and we took turns sitting in the make up chair getting primped and primed. It rocked. That's the only way I can describe it. Jackie walked onto the set at around 9:30ish and the whole room lit up. She is so gorgeous and radiant. She has lost a gob of weight (she was just a beautiful before) and she danced everytime the the theme music would cue up. She smile slike crazy and after you complete your segment, she shouts out your name, throws her arms in the air and makes the whole crew clap and cheer for you. Her energy is so infectious that my face hurt from smiling so much and I lost my appetite. Both Maya and I made it through our segments in one take. They filmed three shows a day and my other segment was the last one of the day. That one took a few tries. Geez, I almost forgeot – another crafty highlight was when Vickie Howell, host of the Knitty Gritty Show on DIY, came on set to do a segment too. I also met the dazzling artist, Karen Mitchell of AnKara Designs
The whole weekend was a blast. I'm glad I didn't blow any cash on getting my hair done because it rained almost every day. It would have just curled up anyway…The makeup lady did a fab job fixing our hair and applying our make-up. I definately picked up some tips. The shows air in July and I hope they invite me back for next season!! Here are some pics: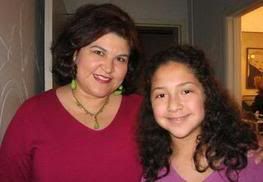 Kathy and Maya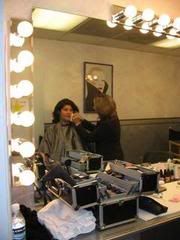 Me in make up chair getting ready for the baby bracelet segment.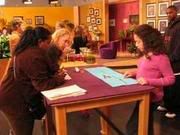 Maya hard at work practicing on her picture bracelets with the producer and director.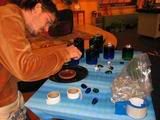 Rick hard at work on display on my ring display.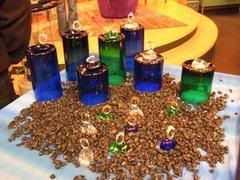 Rick's finished display of my ring smaples.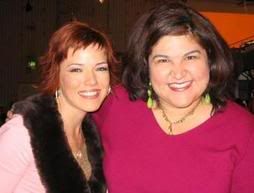 Vickie Howell & me!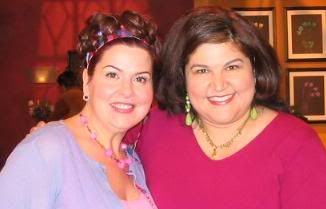 Jackie Guerra & me!
The shows air in July. I'll keep you posted!
Love & light,