DeAngelo finally got his Ultimo Dragon mask from eBay. A little late for Halloween, but he doesn't care. The first night he wore it to bed, and the next few days he wore it every night when he watched WWE. He even took it to school, keeping it in his backpack! The funniest thing is that he puts it on to wear around the house thinking he is all cool and bad – but then he has to wear his glasses in order to see. I've been trying really hard to snap a picture of him with the mask and the eyeglasses on, but he keeps dodging me!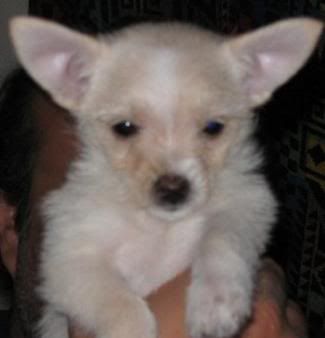 Here is Cha Cha, the one puppy we kept from Bianca's litter. Cha Cha is half Maltese and half Chihuahua, making her a pure bred Maltihuahua. I love how her ears pop up like she is ready to turn on her radar…
***
peace, respect & glitter.
See the new line of Crafty Chica products at select Michaels stores!! All content/photos copyright, © Kathy Cano-Murillo, 2008.