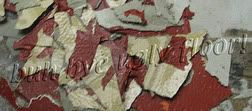 Patrick and I started our 2005 New Year's resolution early. We bought our house five years ago and have yet to do anything to it. It is lined with gawd awful beige carpet and harvest gold linoleum. It was our goal to redo everything during the next 12 months, but we dived in one week early.
Last week we bought all new gorgeous Frigidaire appliances, 900 feet of ceramic tile and lots of boxes to clean stuff out. Today, St. Vincent de Paul came by and picked up 15 bags, boxes and baskets of junk. I even parted with some of my craft books (sniffles). Everything is coming along fine and exciting, except for removing the linoleum in the kitchen. It's New Year's Eve and we've spent just about the whole day taking turns chipping away at it. I'm so sore! It has to be the most suckiest job in the universe.
After searching the web and finding oodles of message boards with hundreds of people asking the same question (what is the easiest way to remove linoleum?), I'm amazed that no one has come up with a removal kit. It could have a mallet, two putty spatulas, a mask, adhesive remover and instructions.
Aside from that, its pretty uneventful over here. We took a break from working on the kitchen and asked the kids what they wanted to do for New Year's Eve. Their answer? "We want to eat breakfast at Dennys!" So we granted their wish, shriveled up sausage and all! At some places, breakfast is not meant to be served at night!
Happy New Year, I hope 2005 is a magnificent year for everyone!! Rock on!
***
peace, respect & glitter.
See the new line of Crafty Chica products at select Michaels stores!! All content/photos copyright, © Kathy Cano-Murillo, 2008.