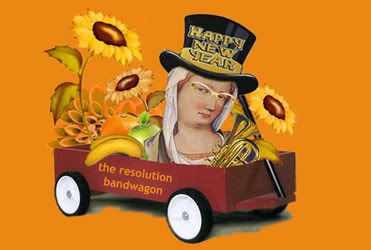 Ask and you shall receive!
After I posted that pathetic FGC earlier, I checked my Hotmail. There in my inbox was an uplifting newsletter from Janice at Our Lady of Weight Loss. The picture above is her art work. Her empowering words came just as I needed them! I'm going to share this with Amy…
Please read (from Janice Taylor, OurLadyOfWeightLoss.com)

Climb aboard.
The Weight Loss Resolution Bandwagon is leaving the WeighIn Station in 5 minutes.
Did you fall off the proverbial weight loss bandwagon this holiday season?
Did you gain a pound, two or maybe even four? More?
Not to worry. Weight loss is a process. It requires work, it involves challenges and falling off the wagon and finding yourself a bit bruised and bloated is par for the course.
Those who reach their weight loss goals are the ones who get back on the wagon again and again. They learn to see that these setbacks are temporary lapses, and they learn from them. They look at the big picture over a long period of time. They understand that there are no magic bullets, no quick fixes. The turtle wins this race.
Here are a few thoughts and tips to get you and keep you on track.
Practice Loving-Kindness. Please stop saying mean things to yourself and being so hard on yourself. (If someone else called you a fat pig, you'd punch them in the nose!)
Forgive and forget. Confess your food sins and move on.
Surrender. Take each day as it comes. Don't put a time limit on your weight loss goals. As long as you are truly committed to your plan – to yourself – then you are on the right track and you are succeeding.
Postcards from the Edge: Buy a pack of postcards or greeting cards, and mail yourself a kind and encouraging note. Getting mail is so much fun. It's okay to be quirky, kooky and creative when it comes to weight loss. "Hi Jane, I know how hard it was for you to say no to that cake. Thanks. Love, Jane"
Get support from friends and family or someone who will cheer you on. Steer clear of the saboteurs. (The Our Lady of Weight Loss Cheerleaders are here for you.)
Positive Self-Talk. If you think you're not going to make it, you won't. Counter the negative thoughts with positive thoughts. "Yes, I can do this. Losing weight is a piece of cake."
Out with the Old. Toss out the 'devil food' if you please and stock your house with the right stuff.
Write Out Your List of Reasons: I want to lose weight because__________. (fill in the blank and be honest) "Be healthy. Look younger. Be socially acceptable. Make that rat who left me feel real bad."
Up Your Fruit and Vegetable Intake."They" recommend eating at least 5 servings of fruits and vegetables per day. Nine is even better. Remember, you don't want to feel hungry. Fruits and vegetables are vitamin-rich foods that boost your fiber and antioxidant intake and help you feel full.
The 80/20 Rule. No one is perfect 100% of the time. If you follow your weight loss plan 80% of the time, and treat yourself to an occasional treat 20% of the time, you should be able to achieve and maintain your weight loss goals.
Practice Gratitude. Keep a gratitude journal. Every night before you go to sleep jot down at least 5 things that you have to be grateful for. Eating is often about filling a void. Perhaps the void isn't as deep as you think!"
***
peace, respect & glitter.
See the new line of Crafty Chica products at select Michaels stores!! All content/photos copyright, © Kathy Cano-Murillo, 2008.