Here's Maya in her spankin' new bed that she bought with her own money. After the holidays were said and done, she counted her cash and it totaled $236 smackeroos. That's a good score for a sixth grader.
She knew *exactly* what she wanted – a loft bed from IKEA. It took two trips for her to thoroughly cover every inch of the 360,000 square foot store. By the time she was done, her mind hadn't changed. She bought the bed and had plenty of cash left over for accessories. Yesterday Patrick assembled it, but she had a slumber party appointment last night and didn't get to sleep in it.

Today she spent hours redoing her room and excitedly clocked in for snooze time at 9 pm. During my regular after-hours check-in (I always have to check on the kids after they fall asleep and make sure they are still breathing, no monsters under the bed, etc…) she yelled for me.
"Mommy! Come here!"
She was scared for three reasons:

Reason #1: She tosses and turns a lot and will fall out.
Reason #2: She hasn't mastered the ladder and will break her legs on the way down to the bathroom.
Reason #3: If something startles her, she can't jump up for the light.
I told her we would do some critical thinking tomorrow to improve the situation and I invited her to sleep in my bed. She declined. She put both her hands on the popcorn ceiling and smiled at me.
"Are you still happy with your purchase?" I asked.
"YES!" she said as she flopped down on her pillow. "Good night, Mommy!"
I'm the one who won't get any sleep tonight because I'm going to be checking on her every 30 minutes! I'm scared for the same three reasons she is!
SUNDAY MORNING FOLLOW UP: This morning I went and checked on Maya. She must have got out of bed later in the night and put out some cushiony reinforcement on the floor to block her fall, "just in case". She cracks me up!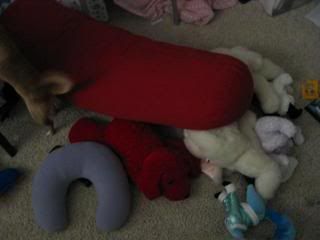 Love & light,