After everyone left from the art party, I packed my suitcases and Theresa took me to the airport. I was going off of 3 hours of sleep and lots of anxiety. I had been waiting for this trip for several years. It's a REALLY big deal. The Craft and Hobby Show is crafty nirvana. It's like, a gazillion football fields big, covered with rows and rows of exhibit booths – craft product manufacturers, book publishers, media outlets, designers, etc. Everyone is showing off thier new stuff and giving art demos and oodles of samples. As I was staring out the window during the car ride, wondering what magical adventures the next 48 hours would bring, Theresa comes out with:
"I feel sorry for whoever sits by you on the plane! You're going to snore like a lumberjack!"
She can be so rude! Like I was really going to let myself fall alseep on the plane in front of strangers. Never in a million years. I was exhausted, but I still had my pride to protect. I made it to the airport and on the the plane, got settled in a window seat and was surrounded by college students from Atlanta. Listening to them flirt and yak the night away was a good warm up exercise for me, because I could get used to the charming southern accents.
At one point during the flight I lost track of time. I popped opened my eyes and turned to my aisle neighbors. It was a cute blond and a buff guy and they were both staring at me, astonished.
"Oh my God, I was snoring. Wasn't I?!" I asked as I covered my face in full-on embarrassment. The girl and guy smiled at each other. She looked back to me and assured me it was no big deal, that I was a "quiet snorer".
Isn't that an oxymoron?
Unfortunately, this same scene replayed several times during the flight. Later, when the time came for us to wait around the carousel for our luggage, I did everything in my power to hide from them!
I arrived to my hotel at 6:30 am and got some sleep before heading out to the show for my first book signing. I was dressed up because I wanted more than anything to make a good impression on everyone I would meet. By the time I walked to the corner for the shuttle pick up, my feet were throbbing from my high heels. I had no choice but to accept that this was my destiny for the day. It was my initiation, a rite of craft industry show passage.
Eight hours later, I hobbled like a granny to my room. Like an angel humming through the clouds, my phone rang. It was Becca_13 from GetCrafty. The Atlanta craftistas invited me out to dinner and she buzzed to let me know she was one her way to pick me up. I whined to her about my shoe situation. (I know, it was dumb to only bring heels. Live and learn, no lectures please) Becca was so sweet, she took me to Target to buy tennis shoes for the next day. After our side trip, we made it to AnnieBee's house so I could meet everyone. Here they are!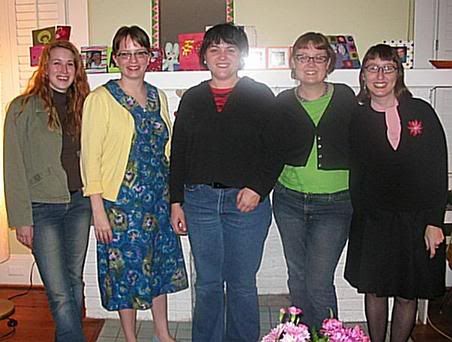 We went to the The Flying Biscuit Cafe – it was so yummy! And the best part is Becca took me on a little tour of Little Five Points and Candler Park. Before the trip, I had no idea what to expect from Atlanta. After seeing all the historic houses and the funky neighborhoods and hang outs, I know I'll be back soon.
The next day was just as fun – mostly because I was in jeans and sneakers. I had a total of four book signings and went through amost 150 autographs! It was so surreal! Another funny thing that happened was I got on the bus to go back to the hotel and began chatting with my seat mate. Turns out it was Alison from Happy Home Designs. We had no idea! We were just chatting about the good, bad and ugly aspect of using resin when we realized who we were. We know each other from GetCrafty. Alison was at the show working in the eBay booth. She is an eBay Power Seller (crafty goods) and they invited her to work the booth.
By the last few hours of the show, I was ready to stop, drop and roll. But I didn't. I pushed on. I had four heavy bags of goodies and didn't want to leave until I covered every inch of the place. I'll be spilling the details soon.

Love & light,