Patrick is helping me with the illos for my new book and he recently shared the sketches he came up with. Look at the scrapbook girl: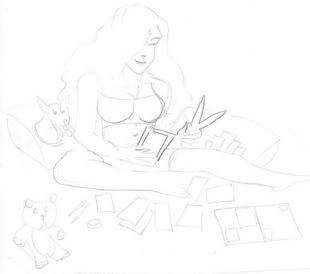 Isn't she beautiful? I wish I looked like that when I scrapbooked. Sorry it is so faint. She is sitting on her bed, cutting out pictures with scissors while her dog watches.

You should see the other sketches he did. OK, all of them are full-figured, curvy and oozing with va-va-voomness. I politely pointed out to him that not all women look like pin-up girls. He then told me that he was thinking of me when he drew them. Yeah, he was thinking of me 15 years ago, pre-baby/comfty marriage lifestyle body. Does he still see me that way or does he subliminally wish I was that girl again? *Rubs chin and ponders in air…*
"Gimme a petite punker, a happy hippy, a business diva", I requested. He then went and whipped out a full range of crafty chicas that I LOVE!
I've been working so hard on this book. The projects are phenominal. I think it's my best work yet. I'd love to share some pictures, but it's all top secret until the book comes out later this year. You'll just have to trust me on this one!
Other than the book, life has been happening, weird as usual. On Sunday we were all piled on the bed (me, Patrick, two kids and three dogs), rolling around tickling each other when I decided to put a new load of clothes in the washer. I kicked the empty laundry basket, but instead of it soaring out of my way, my big toe got lodged in one of the holes on the side panel. The sharp plastic edges of it dug into my flesh and I gasped in pain. It hurt so bad, I couldn't speak. I panted heavily and repeatedly stabbed my finger downwards towards the injury-in-action.
The whole clan on the bed stopped and stared as if I was one-woman off-off-off-Broadway show.
"What are you doing Mommy?' Maya said through a sarcastic, yet quizzical chuckle.
"Help!" I scream-whispered as loud as I could. "Toe! Basket!" More violent pointing.
They still sat there shaking their heads in confusion.
"Please help! Now! Toe! Stuck! In! Basket!"
Patrick finally goes, "What?" He walked over and saw what was causing the tears that were now streaming down my face. He gripped my ankle and sadistically tugged on the basket until it separated from my foot. This was the same man who was lovingly painting sexy pictures of me?
God, it was a good thing my foot wasn't caught in a bear trap, I would have bled to death! I had to make sure to tell Maya NOT to share the "My Mommy Got Her Big Toe Stuck in the Laundry Basket" story at Show and Tell!
***
peace, respect & glitter.
See the new line of Crafty Chica products at select Michaels stores!! All content/photos copyright, © Kathy Cano-Murillo, 2008.