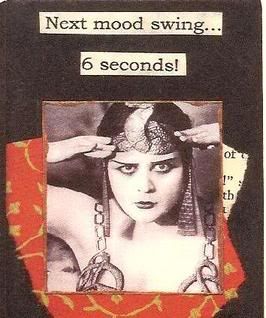 I thought this picture was fitting for tonight.
It doesn't take much for me to bounce back to happy Kathy. Tonight after I poured my heart out on my last post, I went out front and trimmed all the hedges. I had ignored them during the time I was working on the novel. It took me two hours to finish trimming and cleaning. My hands and forearms are still trembling from working the clippers.
Afterward, I had a renegade art session in the studio. I made a batch of kill-ah heavy silver belt buckles using pictures, sequins, rhinestones, ribbon and micro diamond beads. Heck, if the novel doesn't work out, at least I know I can craft like a mother trucker, know what I mean?
As far as all the other stuff going on, it is still looming, but I'm not going to let it consume me (at least for the rest of the evening). Whatever happens, happens. While I was making my anime-themed belt buckles tonight, I thought of something Patrick told me last week. He told me:
"Never rely on hope. When you have hope, you have doubt.
Always rely on faith.
***
peace, respect & glitter.
See the new line of Crafty Chica products at select Michaels stores!! All content/photos copyright, © Kathy Cano-Murillo, 2008.