I recently had a photo shoot for new and improved publicity pictures. Out of all the shots, these two were my favorite. My baby, DeAngelo, was helping out Maria (the photog) and at the end of the shoot, I asked her if she could get a picture of the two of us. The motion was so fast. Snap, and then it was over. But when I saw the end result, it truly took my breath away. DeAngelo is our first born. He was a preemie (I had toxemia and had to get an emergency C-section). He came out weighing four pounds and was severely undercooked. Now he is 14 and has his mind set on being a professional wrestler for WWE!
Can you hang on a sec while I go cry tears of happiness? He's so sweet and polite, I'm so proud of him!
Maria has such a great way of bringing out the best in people. She made me look halfway pretty. At first I couldn't get warmed up and nothing came out right. Last year, she had me summon the spirit of The Bride from Kill Bill and we came up with this.
Finally, something popped in my head that kicked me in gear. I closed my eyes and meditated that I was a finalist on a shiny, happy, crafty version of America's Next Top Model.
It worked!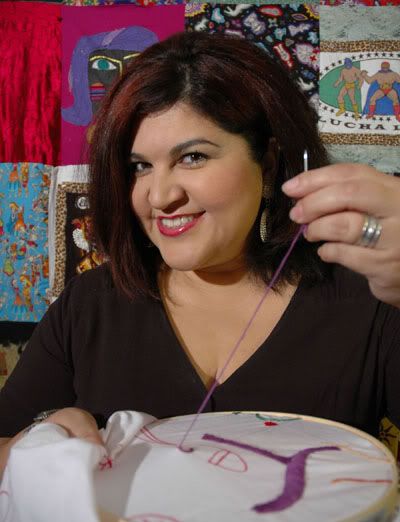 Here are the rest of the shots in case you are bored. I didn't dare put them all on this post!
Thank you Maria! Next time, I want to take pictures of you!
***
peace, respect & glitter.
See the new line of Crafty Chica products at select Michaels stores!! All content/photos copyright, © Kathy Cano-Murillo, 2008.