What do you do when your 12 years-old, bored, have no pool and it's 115 degrees outside?
Maya decided to take matters into her own hands. Using garden hoses and hand held sprayers, she fashioned two showers – one hanging down from a tree branch and then the other shooting up from the ground. She then had our three chihuahuas and their cousin beagle, Lola, follow her outside to her leafy paradise and proceeded to romp with them in the water. If it weren't that I was waiting for a phone interview with Lynda Carter, I totally would have joined them. The downer was that once she got her system up and running, it began to sprinkle. We heard thunder and then made her come in. She was bummed. Mother Nature can be so cruel!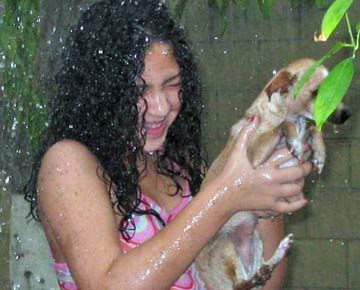 Maya with Bianca.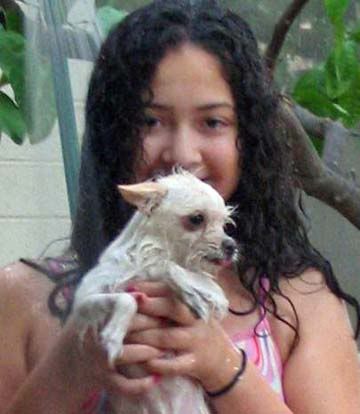 Holding ChaCha.
***
peace, respect & glitter.
See the new line of Crafty Chica products at select Michaels stores!! All content/photos copyright, © Kathy Cano-Murillo, 2008.