The past couple weeks have been so hectic. Not only have I had 10 design jobs all due within days of each other, I've had to help Patrick field incoming orders, plus cooking, laundry and such. Thank God the kids don't have homework these days because of summer vacation!
The grand finale of it all was five days in Los Angeles to tape episodes for a new craft show for the DIY Network. It's called "Uncommon Threads" and it's a show about various very COOL needlearts projects that craft groups do. The group I belong to is The Phoenix Fridas and four of the six of us headed out there to share our thready inventions. It was quite an experience! Here are some highlights:
– For the past month, I've been power-embroidering and speed-crocheting in order to meet my deadline of having excellent "heroes" (final project samples) for my segments (I had four of them). The last thing I worked on was a Techno Tote that I decided I would start and finish on the plane ride.
It's a clean 3×5″ design using two simple stitches. How hard could it be? So I'm on the plane, hooking as usual, when I feel electro shocks shoot through the tip of my left index finger (I'm left handed). It's the most crucial digit of the ten. I use that finger for everything when it comes to making stuff. At first I thought it had to do with my iPod (??), and then maybe the plane. My fellow Fridas: Keri, Anita and Carmen informed me that it was not, in fact, due to the plane or my iPod, but that I had probably burnt out my nerve from over-use.
How could this happen at crunch time? I was forced to continue to crochet using my middle finger. It was very awkward and clumsy. My finger was jacked and my mind was numb. Anita and Carmen had two projects to do and Keri one. I had four. And each of them had impromtu homework (more on that later) Just as I was ready to give it all up, fall to my knees and pound my crochet hook into the concrete sidewalk at Media City Studios, Anita appeared. As calm as an angel from sky.
"Kathy, let me help you. I'll make your project tonight. Relax. Go get some rest."
And she did it! It was a challenge for her too. I was using bulky three strand yarn that was really hard to work with, but I loved it because it was so colorful and bright. Anyway, that night Anita and Keri rested their feet in the hotel pool and Anita finished my project while Carmen massaged my index finger with oil. By morning I was back on track. I finished crocheting my step-outs for my upcoming segments. All was right in the universe again.
**
– At noon Wednesday, when the four of us got to our room (Ramada Inn) from the airport, the male receptionist informed us that check-in was not until 3 pm, and they had no space to hold our luggage. "All we have is that sitting area right there," he said, pointing to a living room set and coffee table. My reply?
"Great then! Come on girls, let's clear the table and do our crafts here until 3 pm!"
Keri thought it was a fab idea and cheered, "Right on! Let's order pizza too!"
Within 10 minutes, we had rooms.
**
– I borrowed Anita's pinking shears that her mom had given her as a child. I gave her the scissors back on the way to the airport, she put them in her purse. Later on, I pass through airport security and I hear a man behind me call out "SUPERVISOR! SUPERVISOR!" I thought, "Oh my God! Some tired to bring something deadly on a plane!" I turn around and the guilty party was Anita! She still had the scissors in her purse and it looked as though the security guards were ready to pounce! She wiped the sweat from her forehead and explained the innocent situation ("We're crafters from Phoenix!"). The super stabbed his palm with said illegal object and realized they were duller than the new Bewitched movie and sent her on her way with the pinking shears. Little did he know that Carmen had passed through unnoticed with a sewing kit! Gasp!
**
– My favorite Hollywood anxiety attack was when I discovered right before my second taping that the shirt I had sewn/designed especially for the show was like, um, three sizes too small. It the heat of my creativity, I grabbed a shirt (small) that I had bought for Maya, and did my magic art on it – instead of my size (1X).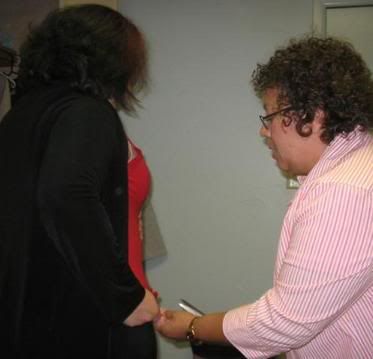 I couldn't even get it over my chi-chis! Anita and Keri closed the door to our dressing room and each grabbed pair of scissors. I got the shirt over my head, over my boobs (ouch!). They snipped the back from the top down and then snipped up each side to almost under my arm. I put on my black cover shirt and, wow! Jane, the wardrobe maven of the show, said cutting, taping and pinning is all part of showbiz and it happens all the time.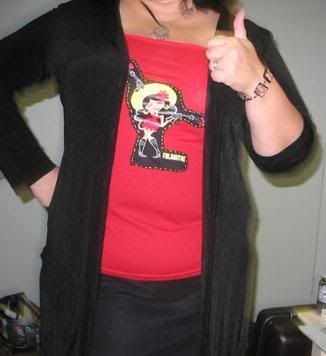 There were a lot of other goofy things that happened while we there but I'm too sleepy to write about them! It was like a retreat, we all learned so much about each other. The fun thing about our group is that everyone is so opposite – Keri (glue gun artist) is a chit-chattin' rockabilly cowgirl from Wickenburg; Carmen is a Brazilian yoga/healthy food lovin' traditional beader, Anita is a soft spoken mom and wicked seamstress and crocheter. We ate sushi, Indian food, shopped, crafted and had a blast. I wish Leticia and Tracy were able to have gone. Next time!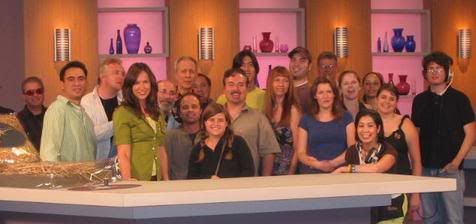 I want to close this post by saying how nice and gracious the staff from Screen Door Entertainment was. They paid for our trip and treated us like crafting royalty. We were literally the last shows of the season (65 eps!). The staff had been working 12 hour days for the past five weeks, but they never let their enthusiasm fade. Christine, our producer was awesome, funny, friendly and always on the ball.
This is how it goes: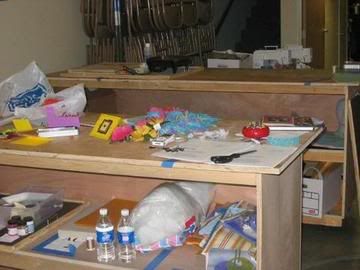 You get there and pull out all your crafty stuff sorted according to project. She looks at it all and assigns homework – like crocheting a purse halfway, or in my case creatively covering up some images I had used on my sample. Keri had to take apart one of her samples to use as a step out, and Carmen's was perfect.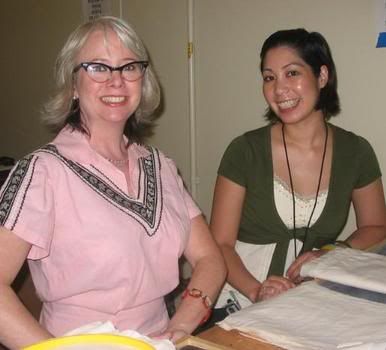 The next day you rehearse. Here is Keri wth Christine. You set up your project in stages and Christine reads the script and pretends she is the host. You go through and do your segment and she times you with a stop watch. She then makes any more last minute suggestions. You hustle to finish those. You go get dressed and wait for your turn. They tape three-four shows a day, which was a blast because we got to meet other craft groups like Kansas City's Urban Arts and Crafts, Material Evolution and The Free Form Crocheters.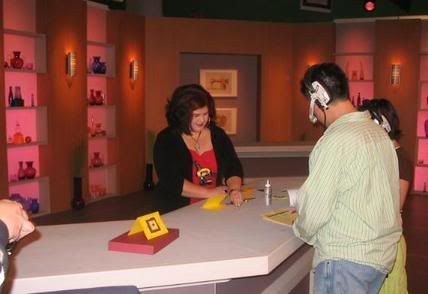 When it's time to do the segment, you go into the actual studio and all the crew gathers around the table and you rehearse with the host. The host is Australian TV personality/producer and master crafter Allison Whitlock.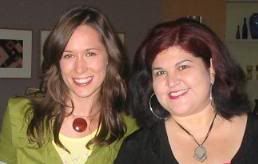 She chats with you to help you relax, practices her lines and then the cameras roll. It's a little tricky because it's live taping, no stops for editing. If you goof, you have to start ALL over. All of us Fridas handled the pressure good (except for my crochet/index finger/shirt thingy).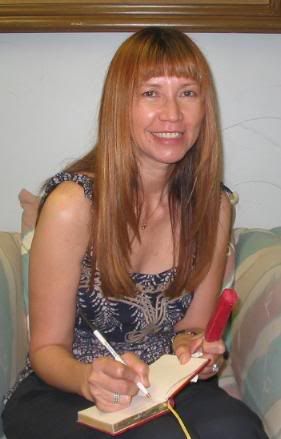 Here is Jane, the wardrobe wonder. She gave me all kinds of great "plus size" TV tips. Even as far as explaining how to slim down by wearing three girdles and a push up bra! It was method she used on a client and said it had a miraculous result. Being an entertainment reporter, I was thrilled to hear about everyone's jobs. Most of the crew freelances, so I heard great stories about other shows like Starting Over, Knitty Gritty, Court TV and Access Hollywood.
I'm looking forward to doing it all again at the end of next month!
OK, can't see straight, need sleep. Adios for now.
Love & light,