If you ever come to Phoenix, you *have* to come the first weekend of the month.
On the first Friday of every month, more than 80 galleries in downtown Phoenix open their doors for art receptions. It's more than that. People come out as early as 5 pm to set up makeshift art vending booths along the sidewalk. It's like a bohemian swap meet. Musicians set up and play (there is even one band that plays on the back of a pick up truck and rives around the streets!). There are firedancers, singers, poets, performance artists and more. Even the L.A. Times has heard of it!
First Fridays is one of the reasons I love this city so much and am proud to live here. I even wrote about it for the paper last month. Anyway, our friend Marco has set up a little Latino/Chicano corner at 3rd St and Roosevelt. There were poets, painters, wood carvers, dancers and more. Last night Patrick and I were out there. He sang eight songs about making love, not war while I worked on an embroidery project. I snapped some pics. It was 113 degrees, but that didn't stop thousands of people from coming out and walking the area.

This is Linda Machado, an authentic flamenco dancer who performed. She is so awesome!

Here's my honey, Patrick. He was singing a hard, serious song he wrote called "Mr. Politician". He always gets so worked up when he sings that song! See that man in the background? We don't know who he is. He just jumped in to help add some grooves.

Even pets like to come out to First Fridays. Check out this adorable little pooch!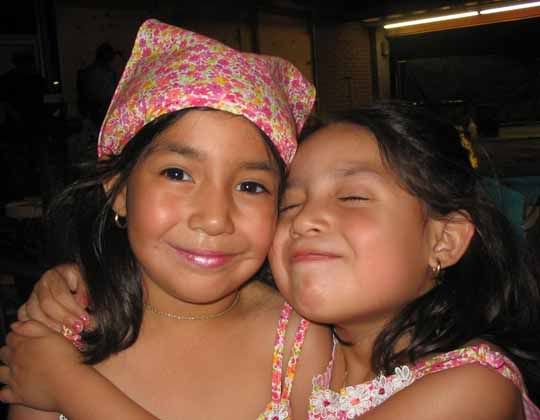 These were my groupies last night. I was sitting by myself embroidering and these two gorgeous little girls came by. Their daddy was an artist and had his work on display across the way. I must have caught their eye, because they held hands and skipped over to me and didn't leave my side all night. I taught them how to embroider and they told me about this fantastic machine their mother has that "has a neeedle that goes up and down. She just shoves the fabric in there and out comes our Halloween costumes!"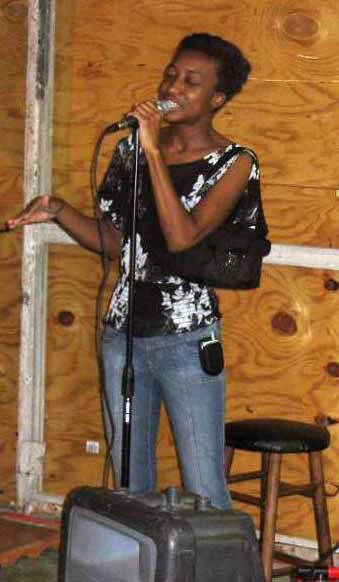 This was one of the poets. I loved her because she went up to start her poem and stumbled on the first line. She got really embarrassed and mouthed to her friend "I can't do this!" Her friend mouthed back: "Just do it!" So this young lady went in for a second try and she "hit it" – her poem flowed out beautifully. It was about being a creative woman, multi-tasking, juggling, crying and just plain loving life. It was cool. I wanted to spread a bit of her positive energy here. Didn't even get her name.
***
peace, respect & glitter.
See the new line of Crafty Chica products at select Michaels stores!! All content/photos copyright, © Kathy Cano-Murillo, 2008.