I finally got around to posting these pics! These are from the first week of June, 2005. Maya and I (and later Theresa) went for a few days for some book signings I had in NYC and NJ. It was Maya's first trip there. It changed her life so much. Now, everywhere we go she relates everything back to Manhattan. She is already thinking of how she is going work a way to living there someday. Well, for now anyway! You know how kids are, minds change every week!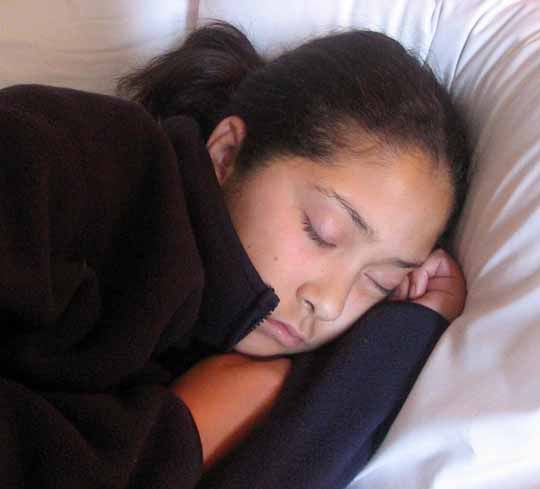 This is Maya as soon as we got to our hotel room. We left Phx at 10 at night and got into the City at 5:30 am. Our room wasn't ready until 11 am, so we had to wander the streets somewhat aimlessly (Rockefeller Center never fails, Today Show!). When we finally got our room, home girl fell on the bed in this position and konked out. She didn't even take off her jacket or shoes. In fact, her feet weren't even up on the bed at all – her eyelids closed before she was able to lift them up.
The funny thing about this – we were able to sleep for 90 minutes before I had my meeting with my Harper Colins editor. When Maya woke up, she was extremely moody and bitchy. The whole taxi ride over to HC headquarters she had a mad dog look on her face, pouting and was saying things like "I have to throw up. I hate this. It stinks. I want to go back to bed. Why didn't Daddy come with us?"
Any other mother, in any other situation, would say something like "Poor baby, I'll cancel everything to accomdate you!"
But this was me. The night before, my sister, who was supposed to go with us and help watch Maya while I had my meetings, had an anxiety attack at the Phoenix airport and didn't come. I was already on edge. I had spent way too much money getting over there, treating Maya to the trip. Now I had the ultimate career meetings of a lifetime with very important people. I couldn't deal with Maya's diva-tude. So I holler/whispered:
"Hold your throw up! Smile! Look perky! Please, for me, this one time! Give me a break! I CANNOT miss this meeting!"
Maya's face went stone cold. She hated my guts and I could feel her stares piercing into me as I greeted my editor with smiles and hugs. We all went to lunch and my editor, Andrea, was so warm, friendly and funny. Maya warmed up right away and returned to her giggly lovable self. It was the lack of sleep thing. After we finsihed lunch, Maya apologized. I offered for us to go back to the room and sleep, but she was like, "No way! I want to go see everything here, I'm not tired anymore!"
Now she teases me all the time about it. "Remember when I said I had to throw up just before your big meeting, Mommy? I freaked you out, huh???"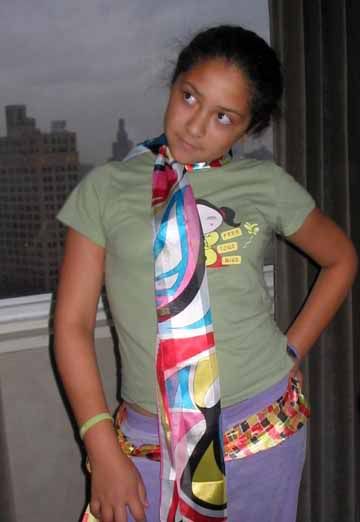 This is after we returned from the Garment District and Fashion Ave. Maya bought two $3 scarves and made the most of them.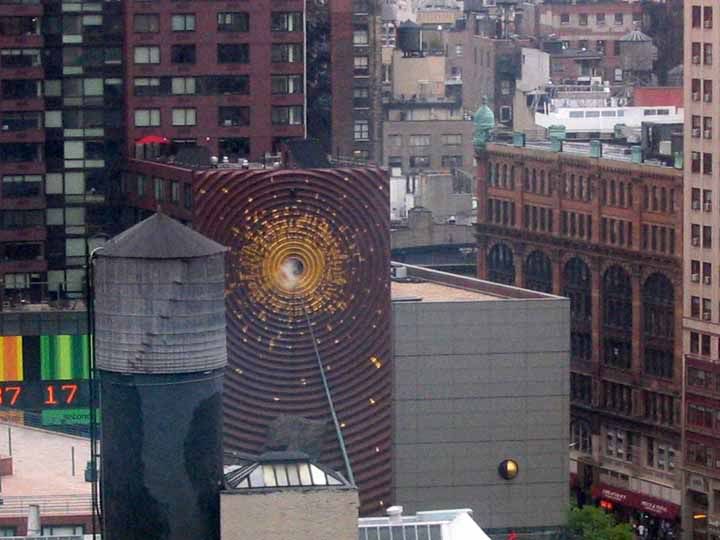 A view from our room in Union Square. That's Virgin Records over there.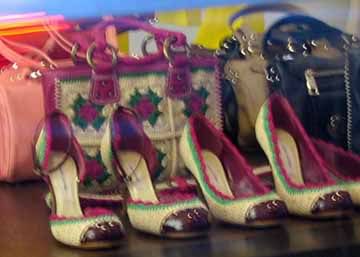 I gasped when I saw these shoes at the Marc Jacobs store window. They are CROCHETED shoes! From his 2004 Resort Women's Collection.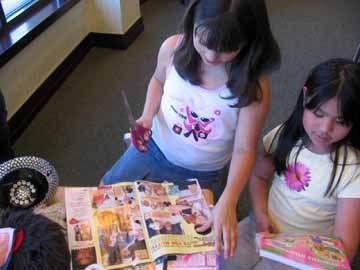 Some little girls from my New Jersey signing.

Maya is looking like, "Why do you want a picture of me here?"
I'm like, "HELL-ooooo! That's the Cynthia Rowley store behind you , and Ralph Lauren right next to it!"
Love & light,