Patrick always teases me about getting a miners hat with a light so I can craft in the dark at his gigs. He was joking, but I think it's a great idea! I imagine myself sitting at the back of the club wearing a neat helmet (that I would decorate) that has a tiny lamp on it. I love the concept so much I even invented one for my novel, and one of my characters uses it faithfully.
Today I was watching QVC's craft day and – Whoa! Look what they had!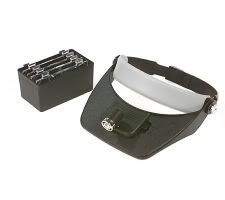 Set your glue gun down for a sec and read this closely: It not only has a lamp – but it ALSO has a set magnifying glasses that flip down. OK, I seriously don't think I'd wear it to one of Patrick's gigs, he would pretend he didn't know me. BUT, just think
What if the lights went out while you were sewing on a deadline? You'd still be able to work!
Or – it's 3 am and your honey wants to sleep, but you want to finish embroidering on that spiffy new jacket you bought at Torrid.
Or – What if your car breaks down at night on a dark side street and you need to relax and calm your nerves until the police come? You could knit a shawl or shrug or something else that is warm, cozy and still very stylish!
Or what if the bulb in your craft lamp burns out? You can still have light to work on your project. The options are endless!
Anyway, it may look totally corny and whacked out enough for MAD TV skit, but I have to confess. I want one!!
Hint THIS IS ON MY CHRISTMAS LIST, people!

Item Number F7704
Crafting Glasses with Magnifying Lenses & Light
QVC Price $21.00
Introductory Price $18.73
Shipping and Handling $4.47
Save! Buy two or more and save on S & H. Click here for details.
Take a closer look at your projects with this pair of hi-tech crafting glasses. A light attached to the visor shines directly on the object you're examining. Greater power is available by simply slipping out one lens and replacing it with a higher powered one. You can adjust focus and enlargement by moving the object you are viewing closer or farther away from the lenses. Plus the lenses swing out of the way when not needed. All parts and lens are adjustable and interchangeable. 30-day LMW. Made in China. one adjustable visor, four magnifying lenses in 1.2X, 1.8X, 2.5X, and 3.5X magnification
lens, storage case, two AAA batteries.
See what I mean? You can order it here.
***
peace, respect & glitter.
See the new line of Crafty Chica products at select Michaels stores!! All content/photos copyright, © Kathy Cano-Murillo, 2008.