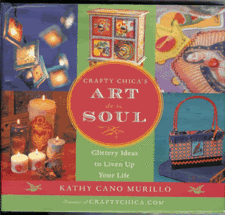 This is my new book, and it will be released in February 2006! It's titled Crafty Chica's Art de la Soul: Glittery Ideas to Liven Up Your Life. Remember that name 🙂
It's a dream come true. It is based on my CraftyChica.com web site that I've had since 2001. I took all my favorite elements from my writing and crafting adventures, plus many more surprises and combined them all in this new power pop crafty lifestyle book. Patrick did all of the illustrations.
The best part?
It is being published by Rayo Books, an imprint of Harper Collins. I'm talking a 50,000 print run! It's the first time Rayo will be doing a craft book. I'm the guinea pig and I want to prove it is a good move for them. Not only for my sake, but also for the sake of the millions of women out there who want to add some happy spirit and culture into their crafts.
The arts and crafts industry is a tad confused about where Latinos fit into the genre. I think they think we are crocheting veils for quinceaneras. I want to show them we are here in full force, not doing corny Nana lacy crafts (much respect!), but that we are into cool, chic and hip DIY projects too, just like mainstream America.
I'm asking for everyone who visits this site, please help support the cause! Here is what you can do:
1. Pre-order the book on Amazon HERE.
2. Send an email HERE and put Crafty Chica! in the subject line. You'll recieve all kinds of super secret updates about the book!
3. If you are in the media, contact Michelle Dominguez, Senior Publicist, to request a press kit/review copy for your newspaper/magazine/tv show for promotional use.
The book includes:
– 30 funky Latino-inspired how-to projects (from beading to paper arts to crochet to sewing, etc) with full color pictures. All the projects incorporate Mexican Pop Art. Very bright and glittery!
– Memoirs called "Diary of a Crafty Chica" where I share the good, the bad and the ugly of living a crafty life.
– Sidebars galore! These show how to use art to connect with your culture, femmness and inner spirit.
– Journaling, quizzes, mucho ideas and more!
***
peace, respect & glitter.
See the new line of Crafty Chica products at select Michaels stores!! All content/photos copyright, © Kathy Cano-Murillo, 2008.