The kids start school tomorrow. Maya in 7th, DeAngelo in 10th.
I really have to take a deep breath tonight, because the worrying begins. A new school year means a whole new life for them. They'll grow even more, their personalities will become more defined, new ideas will be formed. You know, all that scary stuff we went through at that age.
Every year at this time I watch the Lifetime Channel and freak myself out, thinking that, just like in the cheesy dramas, my lovable, untainted offspring will meet a crazy new friend that will lure them into lying, cheating, shoplifting, sex, drugs, hootchie girls, bad boy loners – you name it. Or even worse – I'll drive them to the dark side, because I've smothered them too much. They'll want to devise a way to escape from the decorative rod iron bars that cover their windows in the pitch black night.
It's DeAngelo that I'm most worried about. He is 15 now and so are his friends. Will this be the year that he asks: "Tony just got a new car. Can I gow ith him to the mall in it?"
No..no. It's Maya I'm most worried about. This is a new school for her. 7th grade is a big deal. She has mini-boobs and has already shaved her legs. What if this is the year she asks: "Can I wear heavy eye make up, perfume and ruby red lipstick? Can I wear false nails? Will you drop me off at the mall?"
*Shakes out hands in the air…*
OK, I'll stop! Must have faith. They are great kids. And I think they still believe that I have mom ESP. I used to tell them things like "I heard what happened at school today and I better not find out that you were involved!" They would gulp, drop their jaws and look at me – astonished and impressed. "No, Mommy! Of course not! But how did you know that?" No matter what, I'll still be all up in their business whether they like it or not!
Whoops, gotta go – DeAngelo has just informed me of an emergency situation! We forgot to buy loose leaf ruled notebook paper! Target here we come!
Here they are in younger days…*sniffles*don't they look so happy? I hope they stay that way this year!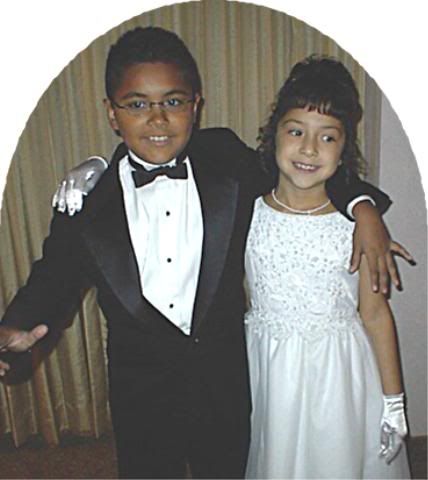 Update, Monday morning before the first day of school: Here they are, ready to rumble at 7 am!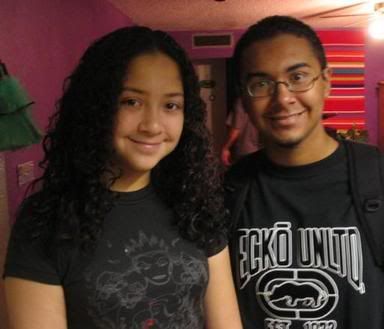 ***
peace, respect & glitter.
See the new line of Crafty Chica products at select Michaels stores!! All content/photos copyright, © Kathy Cano-Murillo, 2008.