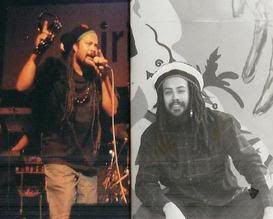 Tomorrow night for First Friday, Patrick has a solo exhibit for a Day of the Dead pet show. He's been working around the clock all week to get enough paintings together. So far, they are sooooo adorable – kitties at a sushi bar and another he calls "puppyz in da hood"… He's been waking up at 5 am every morning and going to bed at almost 1 am. All in the hopes of getting everything ready for tomorrow night.
Today he got in a car accident.
Obviously, he made it through OK. It wasn't his fault, everyone was insured and our two friends who were with him are OK too. Patrick spent the afternoon in a daze and by dinner time he was back in the studio. I finally got him to go to bed a little while ago after baking him a batch of sugar cookies. He wouldn't admit it, but he was sore and still in semi-shock. I could tell because I saw the bottle of Motrin out.
Patrick was in our friend Paul's heavy duty truck, sitting on the passenger's side. They were going 35 mph on a busy street, when a guy in a smaller car going 60 came up behind them and slammed into the right side back tire. He hit them so hard, his car got stuck in the truck, lifted it vertically and shoved it over the center lane where other cars going the opposite direction swerved out of the way. Thank God Patrick had his seatbelt on. When it stopped, he couldn't even open his door and the car remained stuck in the truck. The driver of that car apologized, claiming he had just "looked down for a second".
Freakin' scary. I can't begin to imagine my world without Patrick. And it doesn't help that we been making all this muertos art. Kinda puts a whole new spin on it all. Tomorrow morning we are headed to the doctor and the lawyer is already working on the case. Not that any of that matters. I'm just thankful that my husband and best friend had some powerful warrior angels close by!
Love & light,