My whole body is so sore, as if I just woke up after competing in a marathon with bricks on my feet. Tired and achey – in a good way because of non-stop exciting adventures. I always say that, huh?
Anyway, I got some really great news this week. I was invited by a really big craft manufacturer to come out and tour their facility. It was the highlight of my summer! I'm not sure how much I can talk about what went down, but I can say it involves seeing the Crafty Chica logo in craft stores all across the country! More on that in a later post…
Oh! I do want to share that on the flight up and back I read Lara Rios' Becoming Latina in 10 Easy Steps.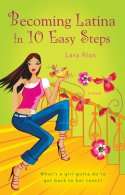 I enjoyed it so much that I want to tell you about it. I met Lara at Chica Lit this summer and bought the book there. i didn't have to read it until last week and I'm so happy I did. It sounds so corny, but I swear my heart raced everytime her lead male character, George, showed up on a page. Here is Lara's web site.
Anyway, now that I look back on yesterday, it kinda was like a marathon. Patrick and the kids and me woke up and went to the Biltmore for breakfast/lunch, then I took Maya to get fitted for a bridesmaids dress (beautiful!!), then we strolled along 7th Ave.
After that we went shopping for a present for my parent's 45 wedding anniversary. Then we raced home, got dressed and headed over to the surprise party for them. My Auntie Julie made really juicy (and strong) margaritas and we ate lots of Mexican food and wedding cake. At 11 pm, Patrick decided since we were dressed up and in party mode, that we should go a check out a reggae band in downtown Tempe. Theresa watched the kids, and Patrick and I made our way across town only to find out the band plays tonight. So we came home and crashed.
If you live in town, or ever get to visit – you must check out these shops along 7th Ave. between Camelback and Thomas Roads. Here are just a few that Maya and I visited yesterday afternoon:
Lucky 15 Paper Arts. 4216 N. 7th Ave., Phoenix. (602) 466-2736. This is a funky paper store where you can learn to make stuff like this:

Copper Star Coffee. This a former gas station turned into a coffehouse, complete with a drive thru! They have wi-fi and bakery items and it's just all around cool. 4220 N 7th Ave., Phoenix. (602) 266-2136

Last, right next door is my friend Steve's new biz, Wag n Wash! Steve is from Azz Izz and he is juggling both gigs. If you stop in there, tell him I sent you! It's a health food store for dogs and cats, plus massages, baths, bakery – the whole deal! 4230 N 7th Ave., Phoenix. 602.462.WASH (9274).

Before I go I want to give a few shout outs to crafty amigas who gave me a shout out this week! Thank you Margot, Karen and Jenny!
***
Author of Crafty Chica's Art de la Soul: Glittery Ideas to Liven Up Your Life ($19.95, Rayo Books, an imprint of Harper Collins).
STORE * T-SHIRTS * MY SPACE * FLICKR* NEWSLETTER