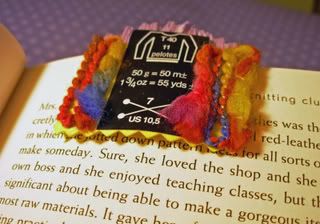 A few weeks back, I mentioned my love for crafty cinema. Well, you should know I'm also into "crafty lit" – juicy novels that have characters who paint, bead, knit or sew. I'm the nerdy type who always has a book on me and I utilize every pocket of time to take in a chapter.
These days, I'm toting around The Friday Night Knitting Club, by Kate Jacobs (Putnam Adult, 2007, $22.95 hardback). I'll admit it took a few pages, but now, I'm hooked. Lots o' drama. The book centers on a small New York City knitting shop and the women who meet to knit and share their stories of woe. Look for a film version, starring Julia Roberts, in June 2008. Another crafty lit book I recently finished reading is The Interruption of Everything, by Terry McMillan (Signet, 2006, $9.99 paperback). Often hilarious and sentimental, our protagonist, a 40-something wife and mom, works at a craft store and questions her life decisions. But what she is sure of is her ability to make impressive crafts.
This project is dedicated to book lovers who like to share their finds. These pockets and bookmarks are a fun way to add spice to your library, and keep all the titles in order. If you belong to a book club, think about setting aside a meeting so the members can whip up a batch of these items. Supplies were purchased at Lucky 15 Paper Arts, 4216 N. Seventh Ave., Phoenix, (602) 466-2736. Other local paper arts stores should have them as well.
HERE ARE THE PRINTABLE DIRECTIONS
***
Author of Crafty Chica's Art de la Soul: Glittery Ideas to Liven Up Your Life ($19.95, Rayo Books, an imprint of Harper Collins).
STORE * T-SHIRTS * MY SPACE * FLICKR* NEWSLETTER