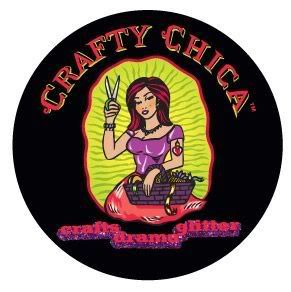 Here are some sneak peeks are the packaging and new logo design. Remember last month I posted a bunch of sketches to choose from? We took all your feedback and came up with this look.
Like it? Isn't she awesome? Personally, I hope to have her abs some day. I love the roses with the scissors too – credit goes to the fabulous Duncan graphic design team for these!
I've been working on this project of a lifetime for three months now. I can't believe how fast the days have clicked by. You would be amazed at what goes into launching a product – much less an entire product line! I feel sorry for Lauren, the direct import goddess, who has held my hand through this whole process. She has the difficult task of nailing down the logistics of my ideas, and getting them sourced (finding someone to mass produce them), and then made in time for the deadlines. God bless her for making the magic happen!
I want this product line to be over-the-top, and oozing – no, make that, vibrating – with Crafty Chica goodness. On second thought, I want it vibrating AND shooting out rays of microglitter. Yet at the same time, I want it to appeal to the mass consumer so everything will fly off the racks. I really need to make a shrine for that purpose. *Jots down on to-do list*
The other day I was in Michaels, and was shocked to some of Martha's items on clearance already!!! What's up with that? I would just die to see mark-down stickers on my merchandise. I would need therapy for a lifetime, plus chocolate! That's why I'm putting 100,000,000,000% energy into doing this right.
It's been hard. Much harder than anything I've done before. Time is a big factor, so I've had to become a crafty ninja. Like The Bride in Kill Bill, except with craft supplies instead of samurai swords. I've had to learn how to come up with an idea, break it down on paper, make sure it is cost effective to produce, and then create a killer sample that will glisten more than Fabio's hair on a romance novel cover. And in a matter of days. Even when things get stressful (I had a mini-meltdown over a font the other day), I'm still loving every minute.
I've learned to stretch beyond the norm, actually I've forced myself. All I keep thinking is "everything has to be different than what is out there!" At Duncan, we call it the "chica factor" – going above and beyond on each and every item. For example, if I want a wood box for people to decorate, why settle for a normal boring box? Why not create a new type of box? I sketched it out, made a prototype, and there it is! Ready to be manufactured! My goal is for people to see something from afar, and say, "Oh, wow! That's a Crafty Chica box!"
OK, I bet you want to know the hard and fast details. There are about 80-100 items on the line. Bright colors. Glitter. Glue. Stencils. Iron ons, Appliques. Paint. There are a lot of original illustrations from Patrick, and even some from me (actually a lot from me!). Everything has the signature Murillo style. Yes, it is Latinocentric, but there are other aspects as well. The specfics are still underwraps because there are some incredible, clever, juicy kits that are our golden tickets. I scoured the crafty landscape to ensure there was nothing like what we're producing. Or at least nothing close to it.
Like I've always said, you have to search high and low and "see" what has NOT been done, and then dive in, and commit! Find the gap and fill it. Once we finish this initial roll out, I get to come up with Crafty Chica products for Halloween and Christmas. This is still so surreal and I still can't believe it is happening to me.
While I'm here, I may as well update you on the novel! Thank you all of you who have written me about it, and those of you who offered to be test readers. I really appreciate the interest!!! I ended up going with a couple of my best homegirls for that. Anyway, my manuscript went out to 10 book editors recently, and now it is a candle lighting/finger crossing/marathon prayer session/waiting game to see if a publishing house will buy it. I think it is the cutest book ever – of course, I wrote it, what else could I say??? It has adorably kooky characters, love triangles, roller derby girls, crafting, Mexican food, reggae music, and of course, GLITTER!
So will it sell?
Half of me knows that many, many authors have never published their first, or even second, manuscript. I'm ready for that. I knew I was taking a chance when I devoted all those hours to it. The chances are slim.
However, the other half of me has this gut feeling that this was meant to be!!
I've had visions of seeing the cover of my book on the middle table at Barnes and Noble. I've been working on this project for the past three years, with no paycheck or guarantee attached. I'm a busy lady who has a family to feed. During those three years, I worked full-time, wrote my craft books, ran my online store, and did the whole domestic thing. Why in the world would I stay up until 2 a.m. every night to write a novel? I've never written a lick of fiction before. But I felt so compelled to do this. I don't know why. The characters just hopped out of my head, and followed me around in my daily life. Something in me, maybe an angel or an internal (fictional?) boot camp coach, made me follow through like a woman possessed.
It all started in 2004, when I saw an ad for National Novel Writing Month. Tonight I re-read my blog from that month, where I posted my progress. I would love more than anything to email NaNoWriMo founder, Chris Baty, and tell him – "My novel sold! Thank for having NaNoWriMo!"

Even if it doesn't sell, I feel so proud to have accomplished such a feat. Will I ever do it again? Probably. I have a couple other ideas for saucy reads. In the meantime, I'm still working hard on my craft books. My next one is for Random House/Potter Craft (they rock!), and it is a Crafty Chica sewing book. I'm so grateful to write craft books.
Today at Borders I looked for my books to sign. I couldn't find them anywhere. I asked the clerk to please look up my name to see if they had any in the store. She said yes, and we walked to the craft section to find a stack of them. I got a bit worried because I had signed several a couple months ago. For a second I thought, "How embarassing, these must be the ones I signed last time!".
But no.
It was a fresh pile of books. The others had sold! So, thank you to the wonderful Glendale crafty chicas who purchased them! It made my whole day!
Well, enough of me boring you with all this. Have a super rest of the week!
***
Author of Crafty Chica's Art de la Soul: Glittery Ideas to Liven Up Your Life ($19.95, Rayo Books, an imprint of Harper Collins).
STORE * T-SHIRTS * MY SPACE * FLICKR* NEWSLETTER