Wow. What a day. The only way I can describe it is totally shine-a-delic. Hi gloss funorama, baby. We all caught a cool buzz, and that is without any craft fumes!
My advice to bloggers out there: go to this conference next year, and bring cards! It's all about networking, sharing stories, ideas, and inspiring others – and getting all of that in return.
When I got on the shuttle this morning, there was one other lady (I'm bummed I didn't get her card) and she gave me the 411 of what to do as soon as we reached the Navy Pier (conference location). She was so sweet, and I remember thinking how nice it would be if everyone there was like her! They were!
After I picked up my badge, I went into the lunch banquet room, and sat with some lovely ladies from Global Voices. I finished my chicken wrap and pasta salad and left for my panel room. I was 20 minutes early, and almost all the seats were full! That's because everyone was excited to see Amy Sedaris, who was one of four panelists. She is a rock star in the craft world because of her passion for kitschy crafting! Next, the radiant Leah Peterson came to serve as the moderator, followed by Natalie Zee (Craft Magazine editor andblogger), and Kristin Roach of the super-clever site, Craft Leftovers.
By then, the room was filled to capacity with lots of creative-looking people (yay, red hair streaks!). We shared our stories, and the audience asked really good questions about pricing, inspiration, product descriptions, and more. Amy kept the discussion lively with her quips. She told us how her dad came over to her house and wanted a snack. She offered him a bowl of peanuts that had a set of googly eyes glued on each one. I suggested everyone in the room should glue eyes on something, and post in their blog in honor of Amy. I plan to do it! Seriously. What other movie star would come to a conference to talk about crafts? Amy rocked it, and lived up to her reputation. I was also blown away by Natalie and all her knowledge of creative arts, tech stuff, and the magazine world – and fashion!! She demo-ed how to make cute coffee cup cozies. And then there was Kristin – girlfriend is only 24 and already has a killer web site!! I wished I had that knowledge when I was her age! Anyway, BlogHer is supposed to post video of the panel discussion on their site. Don't forget to check it out!
After the panel, we went upstairs for our book signings. I was right – Amy had a LONG line, not only to buy her book and have it signed, but also to buy some of her crafts that she brought to sell. I was so bummed that by the time I got up to her table, the $20 concrete birthday cakes had sold out 🙂
But I did get some jars of her lotion, and a calendar. I gave her my earrings! She is so dang petite that my earrings would be too big. "It's OK", she said "I'll hang 'em on my lampshade!"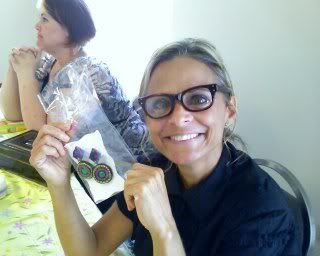 (Pictured: Amy with my earrings!)
I sold some books too! I made little Crafty Chica resin pins to give away to people who bought my book or mentioned my site, and I don't have any left. I also ran out of the beautiful postcards Duncan sent me to pass out!
As if the day wasn't awesome enough – Amy BOUGHT ONE OF MY BOOKS!!! She is so funny, she throws out silly wisecracks for everything. I signed it, and she took it to the cashier to pay. "$27 dollars??" she hollered in shock, when the girl rang her up. "Crap. And now I have to buy it because she signed it! I can't even sell it or give it away because she wrote my name on it!"
Afterwards, she gave me a big hug and we (the panel team) went to eat an early dinner. After that we went to the BlogHer conference party to drink wine, watch people cut up T-shirts with Chloe Dao (winner of Project Runway Season 2!), we ate pudding out micro-sized plastic cups and drank more wine. And met more people!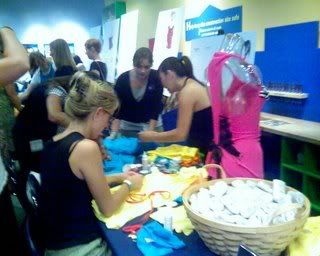 (Chloe Dao showing people how to cut up a t-shirt)
I took a few more photos with my cell phone, but they are not coming through tonight. Luckily, Natalie did a lot of snapping and said she share, so I'll post more pix soon. I'm about to go to bed, I have an early flight in the morning, and I'm so sad the day is gone. There were all kinds of other events going on, one day was not enough time. I got to chat with all kinds of bloggers who write about food, crafts, kids and more! There more than 800 people!
The whole scene was about trading business cards. I learned about the Flickr Mini Moo cards! They are so cute, and you can use your photo on them. As soon as I get home, I'm going to buy a huge box of them!
Here are some links of people I met today (forgive me if I missed anyone!). Thank you to everyone for all their kind words, I appreciate it soooo much!! Keep on bloggin'!!

Silly Bahraini Girl
ScrapBlog
Snigdha Sen
Caribbean Free Radio
Afromusing
Craft Sanity
Ruth Dynamite
Cynthia McCune
Anali's First Amendment
Kelly Reising
Renee Blodgett
Simply Recipes
The Finery Shop
Purse Stories
Kyran Pittman
Felicia Sullivan (Hi, girl!)
Simply Hired
The Wonderful World of Des
Judy Perez
LJC!!!
Kung Foodie
The Dream Shop
Red Stapler
Love & light,