Pardon the delay in posting – my modem konked out this weekend and I wasn't able to get a new one until this morning. It felt good to take a little break, even if I did sneak and check my Gmail on my cell phone every so often.
So. We finished up the webisodes! 12 of those little babies. My blood, sweat, and tears went into each and every one. Literally! But I also put in lots of happiness, thought, quality, and of course – glitter!

Tuesday was crazy because we had worked from the previous Friday night until 5 p.m. Tuesday on prepping the house for the crew. We painted over our purple walls, stuccoed the fireplace (I did it on a whim early Saturday morning: "There is so much to do, how will we ever finish? Oooo, I think I'll stucco the fireplace!"). It's OK, I think we became so high on paint fumes that all of us went off on a tangent. At one point on Monday, I looked up from painting the trim to find Patrick applying a faux stained glass effect to the family room door that leads to the patio. ??????
It felt like one of those beat the clock home makeover shows because at 4:45 Tuesday, me, Patrick, DeAngelo and Maya were running around bumping into eachother finishing up. We didn't complete everything we wanted, but it was a good start. At 5:05 p.m., Lisa, Quanda, and Erin from Bungalow 3 entered our happy latex-scented home and began the inspection. I waited with baited breath as I led them from corner to corner.
They loved it! They said they loved it because it represented what "Crafty Chica" is all about – lots of bright colors, lots of art and upbeat energy! The whole concept of "Crafting With the Chica" is me bringing YOU into my world, the place where I concoct all these ideas and make them happen. That's why it has a homey, cozy feel to it, every project is very personal!
Also on Tuesday evening, Quanda had me model my 12 outfits, and a few of them didn't make the cut, but I promised her I would come up with fitting solutions (which I did on the last day of shooting!).
It was cute because she looked at my toes. "And…did you get a pedicure, Kathy?"
I cleared my throat and launched into my soapbox speech about why I didn't want to sit on the floor and craft. Finally, she gave in! I love you Quanda, thank you!!
The team then left to go shopping for accessories the sets, and I went to work on making my projects. Around 8 p.m., I felt a cold coming on. Maya and I went to Walgreens and picked up some Airborne. OMG, it worked!! I took it every three hours and I had no trace of a cold until today. I'm on it again right now. Anyway, last Tuesday night, I got to bed at 3:45 a.m. and woke up at 5 a.m.
My friend and professional make up queen, Erica Konz, came by at 7 a.m. Wednesday morning to tranform me into a fashionista couture-looking crafter, false eyelashes and all. I am so hooked on falsies now, it's not even funny.
During that time, Lisa went to work staging the kitchen with the accessories she bought the night before, as well as artwork she pulled from around our house. She even included my lucky Chihuahua that my friend Carrie gave me!
By the time she finished, I didn't even recognize the room, it was so beautiful. I mean, it was still my kitchen, but she just added some little touches here and there that packed a punch. Within one hour we were ready to begin the first of the 12 eps. I had my outfit, my project, a gorgeous set, and perfect hair that I had just had cut the day before. We began the shoot, but within minutes, Brian, the sound guy yelled "CUT! I can hear the air conditioner, we have to kill it!"
The crew took turns putting on his headphones and agreed. In my mind, I'm thinking that it is supposed to be 113 degrees outside, and surely they can't mean to TURN OFF the air conditioner. Ha! That would be unheard of, right? Phoenix? August? Film shoot? No air?
Yup. That's what they meant. We went on to film for the remaining 8 hours with no air. Normally I'm a rock solid trooper, but because of my lack of sleep, I began to droop around 2 p.m. – when I say droop I mean my face, my eyelids – and my glue gun.
I started whining. Eee gads, just like my kids! How embarrassing!
"Do we really have to film any more today? I…I…I… have a stomach ache. I'm hot. My eyelashes are wilting…my hair is poofing like Rosanne Rosanna Danna."
"Sorry chica, they chimed in unison. "We have to finish at least three. We know you can do it! You're the crafty chica!!! Come on, show us that glittery energy you are known for!!"
I gulped and centered myself. I reminded myself that I was in the middle of an amazing opportunity. Lifetime TV!!!! My goosebumps returned. I noted that this wonderful, talented crew was just as sticky and uncomfortable as me. They were all counting on me!! I looked at my finished project that I was to demo and summoned the crafty gods to zap me with a shot of andrenaline. It worked! We finished, and everything came out perfect. I thanked the team for pushing me when I didn't think I had it in me to continue. Even my false eyelashes were still intact!
After they left, Maya rubbed my feet and I slept until 3:30 a.m., and then the next day started all over. Except this time, the crew rented a 5-ton air conditioner, which was placed in our laundry room. It had two huge blowers that were fed into the kitchen. We flipped that sucker on in between segments and it made the house icy cold.
We wrapped Friday night. On the previous Monday I remember thinking how long of a week it was going to be. By Wednesday, it seemed like we were just starting. Next thing you know, we were done. Not only was it a memorable experience as far as crafting, it was mostly memorable for bring able to work with Lisa, Quanda, Erin, Brian and Jeff. I can't believe it's all over 🙁
The first epsiode is supposed to go up next week on LifetimeTV.com. I'm thrilled because this was the first time I've ever done anything like this. I have so much respect for people who host TV shows for a living. So much goes into it. And trying to ad lib, without sounding reptitive is more difficult than it sounds. However, I channeled my inner Samantha Brown because the crew kept telling me: "More! Give us more! Be super, super, SUPER perky!" So, you'll notice that I'm SUPER perky. And the set is SUPER perky, and so are the projects.
I love it all! It was so much fun – every second. Our house has a sweet little makeover, and there are still traces of glitter around the house. Everytime I see one it makes me smile. Also, Quanda laid out all my jewelry on a table so she could dress me before each segment. It never dawned on me how many cool necklaces, bracelets and rings I have! This weekend I devoted a whole wall to them! Just like art work!
OK, here are some pictures!
Patrick, our friend Mona, and Maya painting the walls.

The fireplace before my stucco whim.

Lisa and Quanda in my kitchen.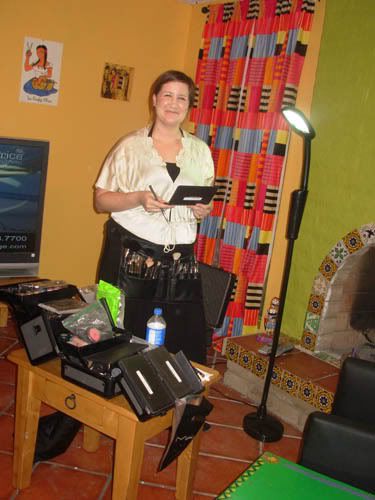 Erica getting ready to work her make-up magic on me. She introduced me to the most beautiful shade of retro matte red – Ruby Woo by MAC.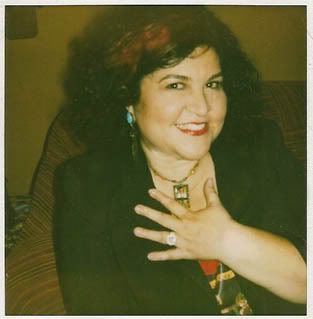 Me on a break. OK, I guess I really don't look too tired.

The air conditioner that saved the week!

Jeff, the cameraman, getting crafty with my sewing machine. Like the fireplace?
***
Author of Crafty Chica's Art de la Soul: Glittery Ideas to Liven Up Your Life ($19.95, Rayo Books, an imprint of Harper Collins).
STORE * T-SHIRTS * MY SPACE * FLICKR* NEWSLETTER