If you are a serious crafter, you know what it is like to prep for a big show. We have Spanish Market this weekend, and like every year, we only have one week to prep.
Five days.
120 hours.
Ten shifts: 5 mornings and 5 nights.
Spanish Market is our biggest event of the year. As much merchandise as we can make, we sell it. It takes two car loads to set up our booth and we come home with one milk crate of leftovers. Not only do we have to make gobs of stock, I have to price everything, make signs, figure out displays and make cards. Here is an easy method for cards – Just print info on address labels and put them on cut up pieces of scrapbook paper.
Let the games begin! This is how serious I am about staying focused. I made three new playlists. One is reggae for "groove" crafting when I'm making my art purses and need to feel the flow. The second is fun stuff like Sergeant Garcia, Rilo Kiley, The Pinkertones, Sharon Jones and the Dap Kings to keep me up late and perky at night. I also loaded up some Spanish podcasts so I can practice those tricky verbs, and some crafty podcasts too.
Next, I stacked up a healthy selection of TV shows on my DVR. I bought a huge case of bottled water, and made trail mix and sorted it into little baggies for random hunger pains. All so I can stay in the studio and work.
Yesterday morning, Patrick and I went to the groceries and bought enough food so we won't have to leave the house. I don't plan on answering emails or phone calls this week. This is red alert time! If you happen to drive by my house, you might want to check on us to make sure we are still alive!
So far we are doing good. Last night I polished off 99 glass ornaments and am half way through 150 magnets. That's just the little stuff!
*
Crafty Chica Trail Mix
1 box Granola cereal
1/2 bag of dark M&Ms
1 bag of tropical dried fruit
1 small bag of sliced almonds
Mix in bowl and put in snack bags.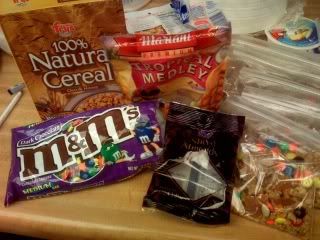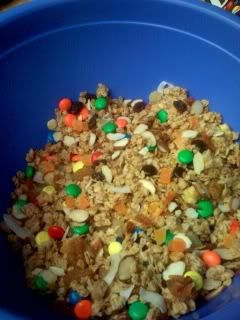 ***
CLICK HERE to see my crafty videos at LifetimeTV.com!
Other links:
STORE * BOOK * T-SHIRTS * MY SPACE * FLICKR
* All content/photos copyright, Kathy Cano-Murillo, 2007. For more artsy goodness, check out CraftyChica.com *