See? That's me up there. OK, not literally, but I have the same rush of excitement, nervousness, fear, EXHILARATION!
Here in Phoenix, everyone and everything around is all about the Super Bowl. Um, I hate sports. But I have a made a SUPER paper mache bowl before. Does that count? Speaking of the football game – if you live here and see a celeb, let my friend and fellow blogger, Jaimee know.)
1. My sewing mansucript is all finished (whew!), and I had such a blast putting it together. Thank you to everyone who sent me sewing blurbs. I couldn't use all of them, although I really wanted to!! I tried to squeeze in as many as I could. They were all so sweet, funny, and endearing.
2. This weekend we shoot the pictures for the book. We have some gorgeous models lined up and I'm so proud of the designs I concocted for the book. I didn't think i had it in me. None of them are too hard, but they certainly offer a twist on cutting and stitching. Think fabric collage-meets-Project Runway. With a dash of Mexicali flair. And oh my gosh, I can hardly wait to show off Patrick's amazing illustrations. He not only did the main art, but also all the step-by-steps too. His talent just blows me away. Sometimes I can't believe it will be 18 years of marriage next month! If it weren't for Patrick coaxing me into art, I don't think I'd be doing any of this. Seriously.
Which leads me to the next exciting thing going on right now…
3. Patrick and I…gulp…have been offered our own four-month installation at the HEARD MUSEUM!!!.
This is a first for us and we are biting-our-nails thrilled. It's a super big deal because the Heard is a very high profile museum. THey don't want us to tone it down,they want us to dial it up to the extreme, Chicano Pop Art style! Bringon the glitter and varnish, I say! We saw the gallery space today and it is almost as big as the first house that Patrick and I rented when we first got married. The show goes up around October of this year.
Sooo. back to today. We are working like busy bees getting ready for CHA. I'm talking glitter EVERYWHERE. Tonight we made curry chicken for dinner and I swore I saw sparkles in it.
As far as CHA, I'm going to be sprinting from event to event at the show. I'm going to be in a high profile craft off called "Art Unscripted Live With Carol Duvall". The event is organzied by Suzanne Lamar from Page Sage (they make wonderful instructional videos).
There are about 12 or so artists who will partaking in this kamikaze crafting showdown. Here are some other events happening there – every morning of the show, the crafty posse of Duncan Enterprises is giving away Crafty Chica bobbleheads! Honest-to-God, they had bobbleheads made of yours truly! And then Patrick and I are demo-ing make-and-takes with our products. And then a book signing, and lordy all kinds of other things!
I set up my iPhone for mobile photo blogging, so I'll be sharing updates here all throughout the show! NOTE: Except for my MySpace blog. I can't figure out how to mobile blog for that yet, so if you want to see my CHa photos during Feb 9-13, you'l have to visit my main Crafty Chica blog.
Yah, I'm prepping for this at the same I'm getting ready for the book photo shoot – no wonder I've been drinking so many mochas lately. I needed the juice!
And the last thing I want to share is that for those of you signed up for the cruise (one month away!!!) – I set up a message board for us to introduce ourselves and ask questions and such. I sent everyone an email invite, but in case it did not reach you, just click here.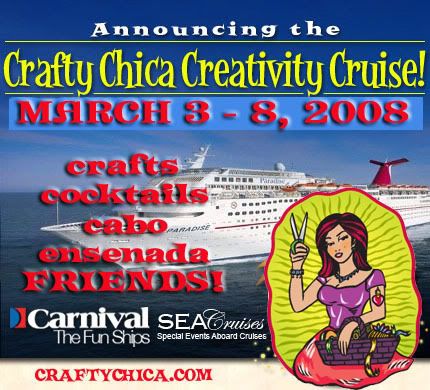 We do have spots left, but the price has gone up. Do not fret, we are already thinking about next year. Patrick wants to do the cruise to the Caribbean! I like that idea!!!
Wait there is one more thing! There is going to be another Chica Lit Blog Tour featuring published Latina authors, this time for Valentine's Day. Stay tuned!

***
CLICK HERE to see my crafty videos at LifetimeTV.com!
Other links:
STORE * BOOK * T-SHIRTS * MY SPACE * FLICKR
* All content/photos copyright, © Kathy Cano-Murillo, 2008. For more artsy goodness, check out CraftyChica.com * for awesome crafty resources check out DuncanCrafts.com