Have you ever tried to make something right, only to totally mess it up beyond repair, thus defeating the whole purpose of why you did it in the first place? Does that sentence even make sense?
So. This is my last weekend to wrap up the text on my hopefully fabulous new sewing book for Potter Craft/Random House. RANDOM HOUSE!! A dream publisher! It has to be PERFECT! I saved the juicy writing for this weekend, because I always do my best right under the wire. My mission was to begin writing at 4 p.m. yesterday. I'm talking about the parts of the book that are supposed to be nutritional, funny, inspirational, informative – the MOST important stuff. It has to be PREFECT I tell you! Did I mention, there was a lot that needed to be written in a short amount of time? The pressure was on, baby.
4 p.m. comes, I sit down in front of the computer, slide a pencil behind my ear, and crack my knuckles. Just then – in a split second, I make a decision that would set me back many critical hours. This little missy decided she needed a little liquid nourishment. Like a margarita. Or two.
Aye, I should have known better!
The last time I was in this spot it was when I was an entertainment reporter for the newspaper, and we all had to reapply for our jobs. We had only 75 characters to explain why we should keep the dream job we loved. I was so nervous, it was a very important task! I had written several versions and couldn't find the right tone. I was stressin'!! To get in the zone, I went with some friends for a drink to "loosen up", so I could come home and bang out my life-changing 75 chracters that would determine my fate.
What did I do?
I wrote it as a singles ad to be cute.
"Hey there, happy editor people! I'm a hard working mamacita, addicted to cable TV, iTunes and People Magazine. I'm sassy and sparkly, you want me for this job because…blah, blah, embarassing blah…" Something along those lines… I put my index finger over my lips to shield a goofy hiccup and clicked "SEND".
OMG. Can you imagine being the managing editor of the paper and reading that?
Anyway. Back to last night. Patrick takes me out, two drinks later, I'm singing Morressey songs and giggling. I walk in my room to FINALLY sit down and work and decide:
"Hmmm. My room needs a makeover! Yes! I want it to feel extra special and comfy while I write my special book, so I'm going to turn it into a home office right at this very moment!"
Talk about a buzzkill.
One hour later, I'm sweating and clenching my back. The mattresses are across the room, the files cabinets are stacked in front of the bathroom, the tables are moved out catty corner, books & papers strewn everywhere. I had pulled out every pile of something and placed it on the floor.
Patrick had company coming over and only had time to sigh, laugh, and put the mattresses back on the bed. His company arrived and I had to keep our four anti-social Chihuahuas in the room with me.
So visualize this: I'm climbing over all this junk, worrying about how I'm going to get my book done, and trying not to step on the dogs at the same time. The little one thought he was funny and pooped in a spot that I couldn't reach. So please add gagging to this scene as well.
All I knew was I had to write my book. So I had to decide, should I put a clothespin on my nose, sit atop a stack of wobbling books and write my inspirational text? Or take the next few hours and clean up the place? I had no choice but to opt for the latter.
First order of business? Sorting all these wires. I cried and cussed the whole time. Just look at them! What the hell was I thinking moving all the furniture around?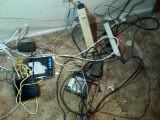 I finished the room at midnight. I then sat at my computer, slid the pencil behind my ear, and cracked my knuckles – ready to get down to business.
And then I went to bed.

Es un nuevo dia. I've been working steady this morning, my room is spankin' clean, and I have a lesson to share.
Do not drink margaritas before you have to write something muy importante!

***
CLICK HERE to see my crafty videos at LifetimeTV.com!
Other links:
STORE * BOOK * T-SHIRTS * MY SPACE * FLICKR
* All content/photos copyright, © Kathy Cano-Murillo, 2007. For more artsy goodness, check out CraftyChica.com * for awesome crafty resources check out DuncanCrafts.com