As soon as I got home from Fresno, it was time to get ready for the event at Changing Hands bookstore. It was called "Hobby to Business" and I led a panel of accomplished women in the local Phoenix crafts scene who shared their success stories.
Lisa Jacobs was there to talk about getting your work into stores either on consignment or in co-ops. She recently opened Conspire Phoenix, a co-op where artists can work there, sell their art and actually make money!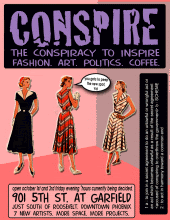 We also had Cyndi Coon of Laboratory 5, she makes these adorable greeting cards using felt and they sell all over the country in hundreds of stores including Kate's Paperie in NYC!
I LOVED chatting with Cyndi because we have very similar horror stories of when we first presented our lines at trades shows and got stuck making our wares non-stop, all through the middle of the night and such. Over the years, she has learned the business of manufacturing handmade goods (out of her home!) in the most efficient way possible. Cyndi had some GREAT ideas for young businesses, and I'm planning to write them and and post it all here very soon. One of the things that stuck out was her "stalker list". She subscribes to dozens of glossy magazines, and then gets the address of the stores featured, and sends them a catalog. Her list is 3,000 names long – and that way she is always working on a steady flow of orders.


One of Cyndi's cards.
We also had Linda Young from Art Unraveled. She talked about how to pitch a workshop, and how to write it up. Her first tip was to get experience by teaching at small paper arts stores around town to get experience. This is a good idea for artist's who don't want to sell, sell, sell – but want to teach and inspire.
That was Friday night.
The next morning, yesterday, I had Spanish class. Gulp. I had missed the last two weeks because of the cruise, and I almost didn't go yesterday because I hadn't had time to study. The worst feeling is to get called upon and not have a clue what to answer. However, Patrick MADE me go. "It will only be worse next week," he said. I went. I'm glad I did because it was a hardcore lesson on conversation and incorporating "me, le, les, and nos". Lordy, I have a LOT of practicing to do! My teacher's name is Herman, he is from Columbia, and he is very patient with us. I wasn't the only one struggling, thank goodness!
By the time I came home from class, Patrick had already left for his gig in Kingman, AZ. He is so cute, he called this morning to say they were on their way home, and he told me that after the gig, the band saw a limo sitting in front of the club. Patrick said he walked up and asked the driver if he would drive the band around the block for $10.
I know, I know…I'm cracking up thinking about it too. That's how the mind of Los Murillos think though. It never hurts to ask – you might just get a yes!
And indeed, the driver said yes! He escorted them to Circle K, and the band members stuck their heads out of the top window, and cheered like they were Van Halen in Vegas. Patrick said he thinks it would be a fun business to have a tricked-out car or limo and go to events just to drive people to the parking lot. Just for the experience of feeling like a rock star, even if it is only for five minutes! Even if it is in Kingman, AZ!
Maya is at Disneyland this weekend with her orchestra group from school, and my sister took my parents to Laughlin. She left me and DeAngelo (the only two of us home this weekend) with her two dogs, Lola (beagle) and Rocco (Shitzu). We have four Chihuahuas here, and all I can say is I think I witnessed some Brokeback Mountain puppy action going on that disturbed me. Six dogs is way over-the-top!! Everyone wants to be the alpha! I will be soooo happy when she picks up Lola and Rocco tonight.
Yesterday was slow. I finally had a chance to clean the house, catch up on laundry, relax, clear my mind, dream big.
In other words – I was bored out of my freakin' mind.
I lured DeAngelo away from his intense World of Warcraft game, and we ate burgers on the patio. We chatted about life, family, school, friends, money, etc. We watched TV. We yawned. We were going to see amovie but had a bad case of the lazies.
Later on, I sent a text to my friend, Jennifer Perkins, who was at the SXSW Bust Magazine party, she had all her jewelry there! I asked her to please take pics of people working on the Crafty Chica totes and she wrote me back that she already did! No wonder she is one of my best friends! She's on top of EVERYTHING, 24/7!!! And she looks smashing to boot. BTW: That is not her in the photo below, it is someone she took a picture of.
You can see more pictures here!
Well, I'm off to make an event flyer, and then clean the art room and work on art orders. Even though I've been at home for hours, it feels like it was a jammed packed couple of days!

***
* All content/photos copyright, © Kathy Cano-Murillo, 2008.