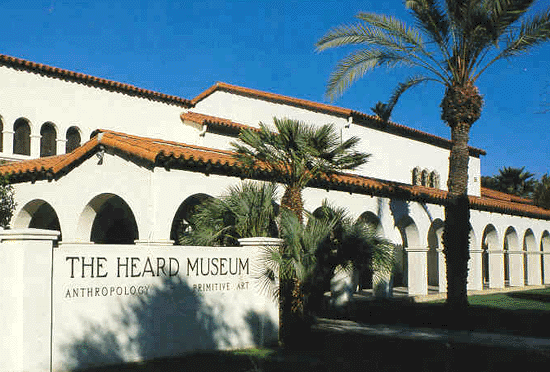 I mentioned this in an earlier post last month, but have more details! Patrick and I have been invited to have a four-month art installation at the Heard Museum this fall! It is tentatively titled "La Casa Murillo".
This is a huge deal for us because we've always dreamed of having a museum show. Especially at the Heard! The folks there have always been so kind and supportive of what we do, and I almost fainted in my chair when Gina called and told me the good news. We often get asked to do gallery shows for First Fridays, but we can never get enough work built up for even 1/8th a show, much less the whole thing. But this is one opportunity we jumped on, and are so grateful for. We will be in the Lovena Ohl Gallery. 928 square feet of our art! And you know we are going put every inch to good use!
As far what to expect, um, let me just say it is pretty wild. And happy. And glitterful. Now… times that by 100! The coolest thing is that the Heard has a crew that is going to help us bring our floor plan and designs to life. I'm talking hundreds of handcrafted creations, all dreamed up by Patrick and myself! And we have all of five months to make everything. And you know I'll be blogging about it the whole time!
In the meantime, visit the LO gallery to see the Young Jewelers show, it runs through September!
Between the Crafty Chica product line release this July (more on that soon), and the Heard, it's going to be a very busy summer!
Last night Maya and I attended a soft sculpture workshop by Margarita Cabrera. We chose found objects and then used vinyl and thread to make a soft sculpture. I think this was the first time that I was a student in an art class instead of the teacher, it felt so good to relax and have fun. Check out Margarita's site because she is very deep when it comes to her pieces and the messages she relays. Many of them relate to the household appliances made by young women in Juarez at the maquiladoras (machine factories). You can learn more about her at the Car Culture exhibit at SMoCA, as well as another show at The Los Angeles County Museum of Art.

Here is Margarita showing how to make our project.
And other crafty newsflashes: I'll be filming another batch of crafty webisodes for LifetimeTV.com; and will sit on the advisory committee for the Radical Lace and Subversive Knitting show.
Another event I'm waiting to hear back on is The Hispanic Women's Conference here in Phoenix.
Every year I pitch workshop ideas and have yet to have one approved. In the past, I would pout and wonder what was I doing wrong?
This year I took a different approach. I looked back at all my pitches – they were all art workshops. My mindset was teaching professional Latinas to use art as a way of visualizing their goals. But HWC is a business conference. I did some critical thinking, and came up with a list of Crafty Chica presentation ideas that have a business theme. No glue guns involved! I sent them off and right away I got a quick response from one of the committee members, she loved the ideas!
Even if they don't get approved, at least I know I am getting closer 🙂
And isn't that poster gorgeous? That is the art of Laura López Cano (no relation, but I wish!). Her paintings make me want to drop everything I'm doing and go sketch and paint!

***
* All content/photos copyright, © Kathy Cano-Murillo, 2008.