I've been in a weird funk the past week and I absolutely must shake it by the time I wake up tomorrow. I've been very sluggish, and even cried several times in the past seven days over silly things. Maybe it is my spirit telling me to chill for a bit, I don't know. Usually I'm my streamlined happy productive self, but I avoided a list of loose ends and now I have to knock them all out in one day (or two).
Things like organizing DeAngelo's graduation party (I need a location!!), last minute kamikaze promoting for the Phoenix Indie Craftorama (this Saturday, people!), writing/making/shooting up a batch of craft columns, finishing some design sketches for Mother's Day, filing a mountain of paperwork and oh, I won't bore you!
What were some of my diversions?
Thanks to a nudge from Margot, Twitter (join it, it is sooo fun!).
It's that site where you type in a sentence of what you are doing at the moment. At first I thought it sounded really silly, but man, it is way addicting! I have been checking it excessively to read things from people about cooking dinner, baby measles, and feeding chickens. And I'm intrigued every second! so much, I've been emailing friends telling them to join so I can stay tuned to what they are doing at every minute.
It went like this in our house:
"Mom, what's for dinner tonight?"
"IDK! Everyone fend for themselves! I'm busy right now! Luna-X says she is drunk, Kristy had a bad experience at Macy's, and Sacred Snatch is at "Thunder From Down Under!"
It didn't stop there!
And then through Twitter I found Utterz.com – where you can post to your blog by PHONE. Yes! A little recording posts on your blog as an entry, and it is of you talking. I wasted time fiddling with that until I concluded that my whiny voice would be grating on people's nerves.
After that, I dove head first into Google Reader and did not come up for air. I surfed and subscribed to about 50 blogs. And commented on every single one of them.
I blame my dear friend Jennifer and this intriguing post! She gave us all these great networking sites, and now I need her to throw me a waterproof, hand-painted life raft (hopefully by Hope!) because I have treaded waaayy far out into the Internet wasteland. I am now spending more time networking about my art than I am making my art.
I then went to book flights for a family trip to San Francisco. I clicked on the wrong arrival AND return times and ended up paying $150 extra dollars.
By Friday night, I vowed to spend the weekend away from the computer.
Saturday morning I had Spanish class. I'm midday through level 2 and I SUCK so bad. I'm the only Latina in my class, and there is a 50/50 chance that I'll roll my rrrrr's correctly when my teacher calls on me. How embarrassing is that? Half my class is twice as experienced as me, but I'm still hanging in there. I refuse to give up until I can act out a telenovela scene without cue cards. Next to deadline dieting, it is the most stressful task I've ever taken on. Everyday I think I want to quit, but then I remember that my work paid in full for me to finish, so I have no choice but to keep practicing. I'll come home from the class, all proud and sassy and throw out a few confident sentences to Patrick, only to have him say, "Uh, sorry. Actually this is way you say that.." – and then he rattles off words I have not even learned yet!
No wonder I fell off the sugar wagon and ate a pizookie last night!
Early this morning, I packed the kids in the car and we went to take my Nana to breakfast and shopping. Nana just turned 90! She is very active and has more energy than both the kids put together! She never runs out of funny stories to tell us about days gone by, and she still cruises the mall.
Today she told us that she is excited to hit the casinos soon. She also just got a fancy new set of teeth. She was ready to rock! She loves to shop for cute clothes, flirty shoes, and purses of course. We were sitting in front of Dillards and she looked at my purse that I had made, and asked me to make one for her. You know I'm all over that!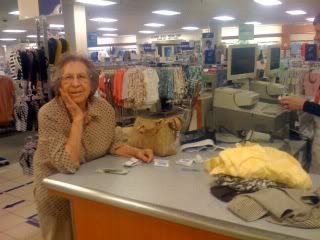 (Nana shopping today. I love this picture.)
My mom says that ever since she remembers, my nana has had a shoe fetish. Even at 90, Nana sits down in the shoe department, asks for nylon footies, tries on about 6 pairs and walks around in them. Today she picked up a snazzy pair of Sketchers that had tiny crystals on them. And I must confess, I Twittered through the entire day's adventure.

(Nana's new shoes!)
When we got home hours later, I was exhausted! I walked like a zombie to the art room, but Patrick spun me around and directed me to the bed and made me take a nap. I slept really hard for two hours and had a dream that I was all dressed up, about to go to a big party to celebrate the Crafty Chica product line release in stores – and I got call from my former manager at Jack-In-The-Box.
I worked there when I was in high school, and it was my first job. In my dream, my manager asked if I could please come work a couple of hours because they didn't have enough people to cover. Not wanting to say no, I accepted and went to sling burgers in my new clothes. They lured me outside and had me climb inside this huge stone castle. The door closed behind me, and the castle turned and locked shut.
They kidnapped me! It took all my might to escape, I don't even remember how I did it, but it was very McGyver-ish. I finally did get free, and I ran down the street, hoping I wasn't late for my party. My old boss caught up with me – and I had to frantically think of someway to get away from him…
And then I woke up! WTH? I don't know if I want an analysis of that dream…
See why I need to get back on track immediately? All the wires in my brain are like a tangled up ball of string.
I'm going to have a very important eight-hour meeting with my bed and pillow tonight and tomorrow I will wake up and get cracking.
BTW: Tonight I cooked T-bone steaks for la familia…
Love & light,