It took us six hours to drive from Phoenix to San Diego, and that excited me because it translated into six hours of reading a book! I took in Berta Platas' new novel, Lucky Chica. It is the sweetest, funniest book ever! It's about an everyday chica who hits it BIG in the lottery, and how her life changes. It's a fast read because it is so engaging!
While we are on the cruise, in between crafting and eating, we will be reading Gwendolyn Zepeda's Houston We Have a Problema. This is clever book about a young woman trying to find her place in life and relies on a comical psychic to guide her through. Grand Central Publishing donated copies to each cruiser! Thank you, Selina!! (On next year's cruise, we'll have copies of my new novel, I can hardly wait!!!)

On the drive home from San Diego back to Phoenix, if lighting permits, I'll be reading Misa Ramirez's Living The Vida Lola. This is a mystery, chica style! Cute title!
Now, about some other books I recently scored and loved that I highly recommend:

Practically Posh: The Smart Girl's Guide to a Glam Life, by Robyn Moreno. This is a go-to guide for inspirations and tips in everyday life. Robyn is a writer and editor at Woman's Day Magazine and knows her stuff. Her advice is golden!

Button It Up: 80 Amazing Vintage Button Projects for Necklaces, Bracelets, Embellishments, Housewares & More, by Susan Beal. Susan is a genius when it comes to designing classic and cool, functional objects. Here, she offers a world of ideas using only buttons! I'm very excited to make some of these projects!!!

Sew Darn Cute: 30 Sweet & simple Projects to Sew & Embellish, by Jenny Ryan. I *heart* this book because it 100% lives up to the title. Jenny's personality shines through and the projects are irresistible! I have a favorite personal memory about this book. Last year when Jenny and I rallied in front of Ellen's studio for the sake of glitter, Jenny was worried about her book deadline. I was a bad influence. I kept saying, "You only live once!" and stuff like that because I didn't want her to leave, she is so much fun to be around. She stayed!! And look, the book came out beyond perfect!! Speaking of "beyond"…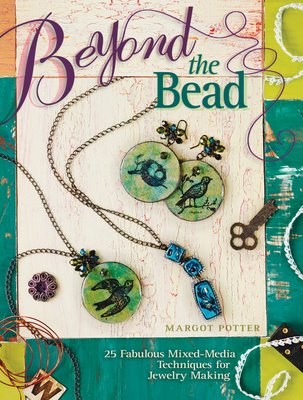 Last (for now), is another crafty homegirl of mine! This one is Beyond The Bead: Making Jewelry With Unexpected Finds, by Margot Potter. It is all about ditching your predictable jewelry supplies and searching for more unique takes.
Leave a comment sharing your own favorite books, fiction or non-fiction. I'll draw one name and give away a copy of EACH of these books.
BUY BOOKS AND READ, READ, READ!!!
Peace, love, and glitter!
Kathy 🙂
P.S. Check out my new book and product line!