This is what it's like to get styled by Lane Bryant! Wow, I never would have picked these pieces but now they are part of my wardrobe. Last year when I hosted We All Grow Storytellers, I wore a hideous blouse that was far from flattering. I vowed to plan head this year and come up with an outfit that I'd feel comfortable in so that I could enjoy the experience of hosting the event. It's not easy standing on stage in front of 350 fashionable bloggers, tell a story, host the show, go up and down the stairs between speakers. Can you say stressful?
As the month's pages flew off the calendar, I began to worry and whine to my friends.
"What am I going to wear? I don't want to look frumpy again!"
Plus, I lost 40 pounds from last year and wanted to celebrate by sporting something fresh. Then one day I heard the familiar ding from my iPhone. New message. It was from my friend Monique from Curves and Chaos. She is the ultimate expert in plus size fashion – comfortable plus size fashion!
"Kathy, I have great news!," she cheered. "Lane Bryant is going to sponsor an outfit for you for We all Grow Storytellers!"
Wow! Excitement replaced anxiety. I received the email that approved me for several pieces. I headed to my local LB location where they were expecting me. The girl was so sweet, she introduced herself, looked at me and asked about the nature of the event. She then immediately began to pull clothes from the racks for me to try on.
I took a deep breath and hunkered down in the dressing room.
Here are some of the first items she brought. I fliched. I don't do skirts. I'm shy because of my thick legs. But my mission was to have an open mind. I did try on – but skipped the blazer, it looked nice but I'm just not the blazer type at this point in my life! The skirt, I could handle!
Ack! The tops! They are not tunics that cover my hips like I'm used to! I bit my lip and tried them all on. I loved this black and white one. It went with everything!
She told me that the shirt tucked in would show my waist, that I should ditch the tunic and try a cropped jacket. I liked the jeans jacket. I did love the heels – but there is no way in God's green earth I could safely climb up and down the stairs on the stage with those things on. They were great for standing in the picture, but not walking on stage in front of 350 people!
Baby steps, people, baby steps!
She had me try on all kinds of necklaces and earrings to pull the look together.
I chose this necklace Gorgeous! But guess what? When it time to get dressed, I must have been so nervous that I overlooked it. I did finally find it in my suitcase when I unpacked at home. So it will be a special treat for another event!
I also passed on the belt, I wished I would have kept it. Now that I see it in the picture, it's really cute! As far as shoes, I brought some platforms to wear, but at the last minute I wore Maya's black flats.
Monique came to my room and did my make up. She helped calm my nerves before going on stage!
Ready to do this! The night turned out to be magical and uplifting. You can see more about the night here!
And here are the outfit pieces!
I was really happy with this skirt. I felt like this girl in the picture. all cute and flirty and wanting to swish my skirt about. It's nice for plus-size bodies because it flatters your waist and hits just below the knee. It's heavy fabric that doesn't wrinkle and drapes nicely. You can wear it with heels for a glam look, or flats or sandals for super casual. But still look dressy.
I'm giving you my word – I WILL NOT PAINT THIS JEANS JACKET! If you know me, I love to paint jeans jackets. It's a crafty addiction. But this one I'm going to keep just like this. Promise.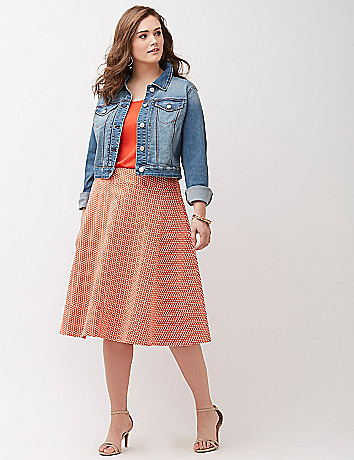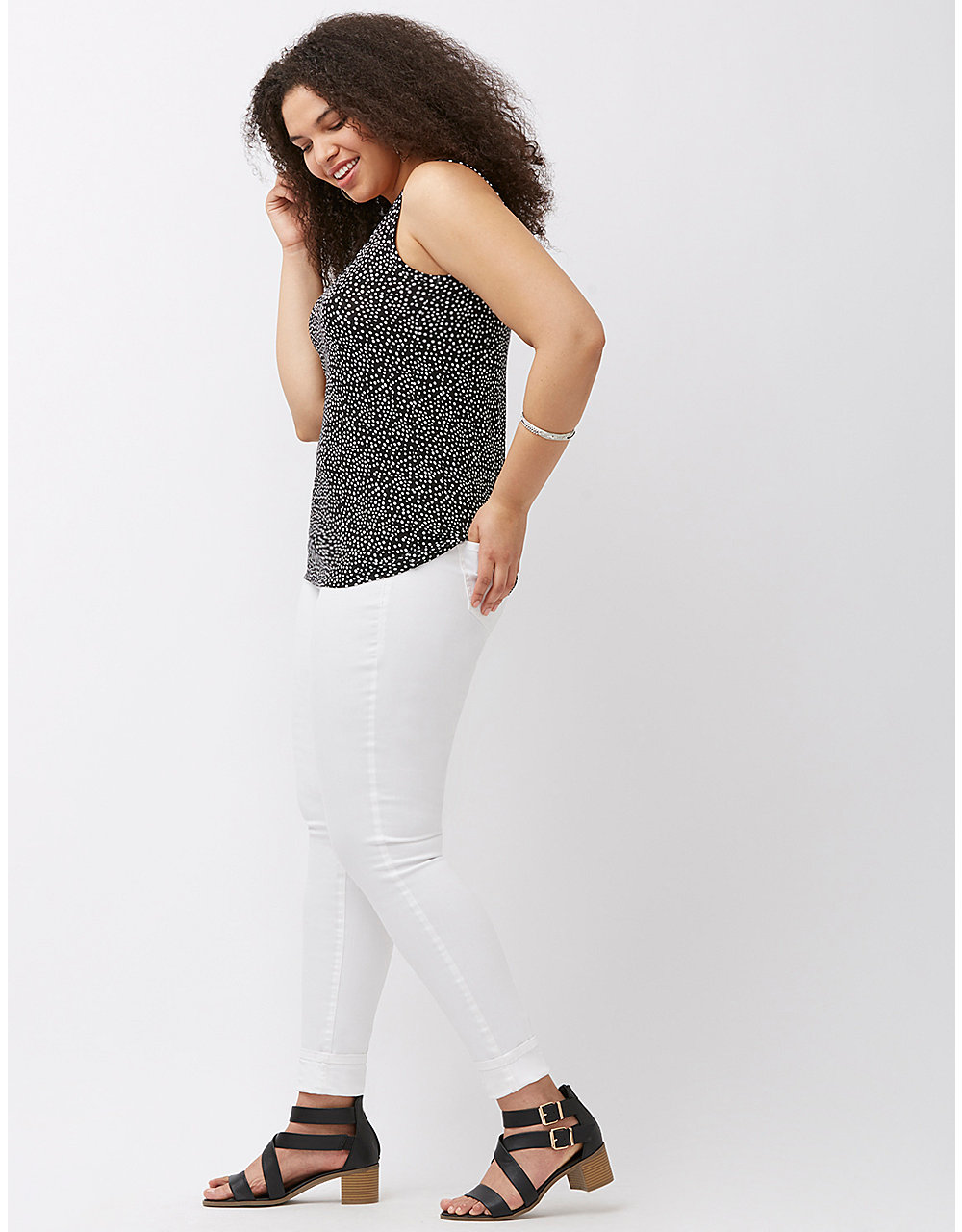 Ballet Back Top by Lane Bryant.
So how did I do? Do you think I chose wisely?
Here's my advice next time you go into a Lane Bryant store:
Before you go, gather up those Real Woman dollars, they'll help you save money.
Look on Twitter or other places for coupon codes or gift card giveaways! I once won a $100 LB gift card from a blog!
Check stores in your local area to see which store is the largest, they'll have the most selections.
Look at items online to see which you are interested in, that way when you go in the store, you'll have an idea of what to try on.
Plan ahead to not just shop the clearance section. That was my bad habit. It's good to look there, but also check out the new stuff too.
If you are totally confused, ask an attendant for guidance. Tell them what you need clothes for and see what they pull for you.
Keep an open mind – a lot of times we get locked in our routine and then have a hard time finding new things to wear. Or you try on the wrong new thing.
Think comfort. True beauty shines from the inside out. For me, I think I'm going to be daring and buy something REALLY out of my comfort zone then it stays in my closet. So try something new – but make sure you feel great in it.
Don't pay attention to the size numbers. Seriously, they are just text on a tag. Instead, go for the clothing item that looks on point and makes you feel great about yourself!
Thank you so much to Lane Bryant and the team at the Phoenix Colonnade location!