I love it when an idea comes to fruition! Let me tell you the story about the new Phoenix Latino Bloggers group (pictured above, with the sun in our eyes!).
I attend a LOT of blogging and social media conferences and I meet all kinds of people from all parts of the world, country, age, etc. I love that Phoenix (and surrounding areas) is known for a wide range of power bloggers and influencers. Scores of talent here! But one thing I noticed…I hardly ever came across Latino bloggers from Phoenix. Yes, we have them – like my dear friend Vanessa Rodriguez Coppola from SeeVanessaCraft.com and a few others – but I wanted to find more representation. I love Phoenix, and I love being Mexican-American. I wanted to share that excitement with others who felt the same way. I feel we offer a cultural perspective that adds to the story of our Phoenix community.
I was talking about this to my friend Eric Diaz – a mover and shaker here in town for digital media, and I pitched him and idea for a partnership to do something proactive! Using one of his companies, Collectivo and sponsored by Latina Bloggers Connect, we launched the first-ever Phoenix Latino Bloggers Workshop Series. We had 21 people apply who either had a blog or wanted to start one. We combed through all the applications and chose six to go through the program. Then, along the way we had some very passionate applicants ask for the opportunity as well. We couldn't turn away that kind of enthusiasm!
Over the course of four Saturdays at four-hours each, I became the drill sergeant blog teacher! They learned about everything from SEO to choosing a font family, taglines, photo sizing, graphic design, social media, working with brands and so much more.
At the end of the series, four participants who attended all four classes were granted a free ticket to the We All Grow Summit to learn even more and meet inspirational digital entrepreneurs and mentors! And one of the other participants bought a ticket to attend as well!
Another cool thing? Toyota sponsored the group with cars to drive from Arizona to California!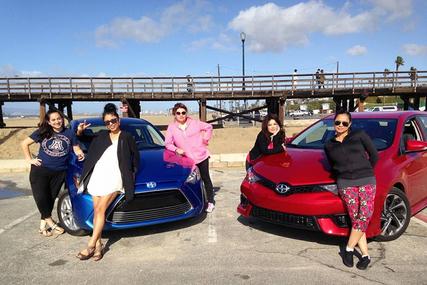 You can read about their adventures in the Scion iA here, here, here, and here!
Alrighty, let me introduce you to them. They are all at different stages in their blogging experience, and I love watching them grow and put themselves out there! I hope you'll follow them and see all the fabulous articles they'll be sharing!
Adventures of a Hungry Latina (gluten-free cooking)
Enthusiastic About Life (adventure, life bucket list)
Fabulous Saturdays (Phoenix activities)
GloriousCraft.com (DIY, yoga, affirmation)
Latinaology.com (Latina lifestyle)
Latina Still Standing (Motivation, affirmational)
MarieEsBella (Fashion)
Studio Artology  (Art, DIY)
Very Vinyl (Music)
It was such a satisfying experience to see these folks get going on this passion project. I'm so proud of them! I hope this workshops continues and grows! If you are in Phoenix and want to apply for the next round, make sure to follow Collectivo, they'll be sending out the announcements!