Check out these Dia de Los Muertos jewelry DIYs! I love the creativity when it comes to Day of the Dead crafts and especially jewelry.
Dia de los Muertos has become more than a once-a-year event here in the U.S., I love that people take the meaning to heart and learn about the history. Every day I meet and hear from people who embrace the tradition (here's where you can learn all about it!).
It's not just about cute sugar skulls – these calacas have a special message that showcases the cycle of life. Sugar for the sweetness of living and a skull to accept death as part of our life's journey. These jewelry projects represent that in the most beautiful way.
Do me a favor and if you decide to make any of these and you receive compliments – make sure to explain the meaning behind them! Pay the knowledge forward! xoxoxox!!!!
Click on the titles to go to the tutorial, unless it is video, then just click and play!
Alright, let's do this, here are some cool Dia de Los Muertos jewelry DIYs!
DIY, Day of The Dead – Frida Kahlo Inspired Earrings
---
D.I.Y. Collares De Frida Kahlo facil
These are Frida-themed, but you could do a gorgeous muertos version as well!
---
Dia de los Muertos – Day of the Dead – Ribbon Charm Bracelet
This one is by yours truly!
---
calaverita???? kawaii PORCELANA FRIA tutorial
This is in Spanish, but you can get the gist from watching her – it's such a cute project!
---
I love how she uses a fork to make the teeth – genius!
---
---
How to: Dia de Los Muertos Jewelry DIYs With Images
Mark Montano shows how to make these large and in-charge pictures cuffs, simply add in your favorite muertos image and you are set!
---
Here's another Muertos Shrink Plastic project by Vanessa Brady!
---
Reversible Embroidered Necklace by Cassie Stephens
---
Embellished Skull Bisque Beads
This is pretty darn mind blowing! This image has a link to buy these skull bisque blanks but it no longer works. You know what though? How about we just make these from clay and go from there? Talk about inspiration! Um, YES!
Day of the Dead crafts at its finest!
---
you can use this pattern to make more than earrings!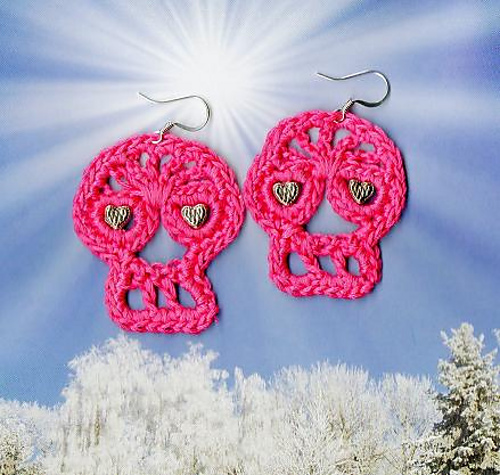 Day of the Dead COCO inspired earrings
Macrame Beaded Muertos Bracelet
---
Don't these all look so tempting to try? What other Day of the the Dead crafts are you going to make?