Do you believe one can paint away stress? I do. I've noticed in life that whenever I feel overwhelmed or anxiety creeps over my shoulder, the best way to shake it off is to divert my attention. That's where painting comes in. To me, dropping a blob of shiny wet paint onto a clean, raw slab of wood makes it all the better.
Last week I taught a wood burned sign DIY class at Michaels headquarters and was able to bring home a stack of those awesome Walnut Hollow round basswood slices. Addicted!!!! I set them aside for a special crafting session, and it arrived sooner than I thought.
Oh! I have some exciting news! I'm now a Make It Martha blogger! I'll be sharing a new project each month featuring the many new MS color products on sale at Michaels.
This relaxation painting project was certainly a great way to warm up to this exciting assignment! I felt like I introduced myself to all the new colors and they winked and gave me a big thumbs up. All is well and I'm ready to rock!
The pigments are brilliant and bright, and the textures very creamy. You can use them straight from the bottle, or thin them with water. I used the line of Watercolors on these wood plaques, as well as some of the Satin colors. Here is where you can see the entire line. 
Stay tuned, I'm going to be doing some more tutorials with items from this line!
About the stress – this summer has been crazy busy. At the same time, I'm working every night writing a new book, and I reached a point this week where I felt like sobbing and scarfing Ben & Jerry's. I can't keep up! The days are flying by so fast, there is so much I want to finish.
Do you ever feel like this? It's pretty normal, I guess. We all have our challenges.
So you know what I did? Instead of writing yet another to-do list, I stepped away from EVERYTHING. I literally put my phone in the other room and powered down on my evening agenda. I walked like a mesmerized mummy into the art room, grabbed those wood pieces, some paint and went to town.
Here are my tips to paint away stress:
Don't worry about your surfaces, paints or tools. Use what you have. Adapt. No excuses. I feel doing this shows you how you can push through despite any obstacles. Make the most with what you have and work with it. Look around your house for something to paint. A bottle, tile coasters, a candle jar. Anything is fair game!
2. Decide on a theme for what you want to paint. Flowers? Cupcakes? Frida? This will make things easier, Google your favorite topics and see what inspires you to create your own, original version. I'm always a sucker for happy girls with flowers in their hair. When in doubt, go with what you know!
3. Keep going, even if you make a mistake or something looks wonky. I forgot to erase my pencil lines and look – now they are there forever! But that's ok, I still love how the piece turned out. It says "Follow Your Dreams."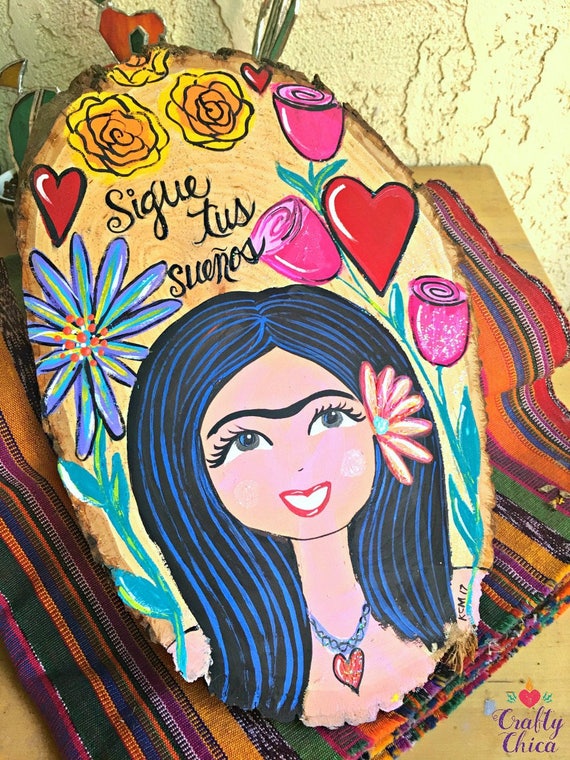 4. Allow yourself to experiment. Anything goes! A headdress made of conchas? Cacti for earrings? Why the heck not? I made this one. Patrick had to help me. My faces always turn out very round, he taught me how to raise the hairline to look more realistic.
5. Make white paint your best friend. I LOVE this. If you do want to fix a mistake, as long as you stick with acrylic paints, you can always use white to cover and start again. No one will ever know!
6. Turn off your social media notifications, turn off the TV too. Listen to a playlist to cleanse out any worries. You'd be surprised how much your creativity will flow if you have music.
Here's a favorite of mine from my friend, Pili Montilla: 
You can also listen to a good audiobook. I just finished this one and loved it, My Not So Perfect Life, by Sophie Kinsella.
7. Do all things with love. Starting with YOU. You have so many talents and skills, stimulation overload is bound to happen. That's just fine. Take a break and let yourself create and unwind. Even if it is late a night after everyone is asleep, or if you have to cancel a book club meeting. Take time for self-care!
I hope you'll clear some time to paint something! I fetl so much better. I woke up the next day feeling accomplishmed and I had some cool pieces to add to my body of work!
And because I'm a working artist, of course, I already have these pieces listed in my shop. I even set up a FREE SHIPPING coupon code for this weekend: SUMMER2017.