This shop has been compensated by Collective Bias, INC. and The Coca-Cola Company, all opinions are mine alone. #ServeWithACoke #SoloConCocaCola #CollectiveBias
We're in the middle of Hispanic Heritage Month – Latinx Heritage Month, and to celebrate, Coca-Cola™ has this tasty campaign to pair up a yummy Mexican-inspired meal with a frosty bottle of Coke de Mexico. But really we know HHM is all year round, right? Every day is a reason to celebrate the beauty, richness, and flavors of Latin culture.
And Coke de Mexico? It has such a signature taste. Every sip reminds me of my travels to San Miguel de Allende, Cabo San Lucas, Rocky Point, Puerto Vallarta, Cozumel, Mazatlan, Ensenada – the list goes on. I'm third generation Mexican-American and it wasn't until my adulthood that I embraced traveling to Mexico to connect with my roots. My family comes from Sonora and Zacatecas, I have to travel there, but hope to someday soon.
Make sure to visit the Serve with a Coke site to see more about Coke de Mexico!
For me, Coke de Mexico is not just a beverage – it's an emotional experience that conjures up happy memories of hanging out with family and friends. And because this week has been so heartbreaking with the earthquake in Mexico, even more so. Like everyone, I'm still shocked and it's been all I can think about.
I've donated to the cause, I'm sending prayers all day and night, and working on this recipe gave me a sense of peace. It felt like an act of love dedicated to Mexico. And to tie it all together, I plan to donate my pay from this campaign to Mexico's relief fund. So a big thank you to all of you who are reading this post right now. I appreciate it so much! I figure this can be one of the ways I can pay it forward.
Alrighty, let me tell you the story of these "quesaritos."
A few months back Patrick and I were making our own breakfast. I made egg whites and turkey bacon and as I walked by Patrick I saw him making a cheese crisp. A few minutes later, he joined me to eat. He bit into a burrito and closed his eyes and he savored the flavor. I took a double look and gasped.
"Did you make an egg burrito out of that cheese crisp?" I asked, astounded.
"Yes, and it's delicious!"
I ditched my egg whites and turkey bacon for a day and made a cheese crisp burrito too. I think a tear escaped because it tasted sooo good. The crispiness of the cheese tortilla combined with the filling. Afterwards, I called my sister told her about what just happened.
"OMG, that sounds fantastic! "Let's start a food truck," she said.
I ran back and told Patrick and asked him how this fabulous idea popped in his head. I told him this had to be a culinary breakthrough.
He chuckled. "I saw it on a TV commercial and decided to make my own."
My face fell. Apparently cheese crisp burritos – "quesaritos" – were already a thing.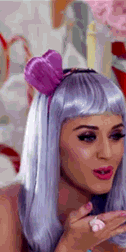 Oh well. So much for the food truck idea! But we've been making them ever since, and they taste even better when paired with an ice-cold, fizzy Coke de Mexico! More happy memories in the making! Decorate a giant bowl, fill it with ice and add the Coke bottles and you have one fantastic centerpiece.
For an extra kick, add a lime slice on the edge of your glass!
Ingredients:
Small sized flour tortillas, I used Guerrero brand
Shredded chicken
Shredded cheddar and/or Jack cheese
Pinto beans
Salsa
Avocado cream sauce (crema mixed with avocado)
Directions:
Heat up your comal (griddle) on medium heat. The key here is low and slow. You want for the tortillas to be browned and crispy, not burnt. Heat the tortillas until they are lightly browned, then lower the heat a bit and add a thin layer of cheese. Once the cheese melts, remove tortilla from the comal and add a bit chicken and salsa, carefully roll it up.
The small tortillas worked perfect for this, the size you would use to make street tacos. One or maybe two mini-quesaritos are just right for a serving size!
Add a side salad, along with pinto, black or charro beans. Add lime slices and avocado too!
For a meatless version, fill with the beans, jackfruit, or soyrizo. As far as the Coke de Mexico, chill it on ice, and don't open and pour until you are ready to eat. It will make the perfect pairing to this meal!
Thank you for reading my post and I hope you try this recipe and pair it with Coke de Mexico! You won't be sorry! Here is a link to see even more recipes!