My summer of Celia Cruz.
That explains my life for the past four months. I traveled a lot and instead of renting movies for my flights, I made good use of my Netflix account and downloaded the 2016 Telemundo novela/biopic, Celia. It led me down a rabbit hole to other series, so I thought I'd share some of these juicy novela ideas here, in case you are looking for a deviation from your current routine!
First, here's the thing. I HATE movies about cartels, maids, drug lords, etc. It's really hard to find new movies and TV shows with strong Latina leads that have nothing to do with those topics. I have my standby faves (One Day at a Time, Selena, Real Women Have Curves), but it's time for some new offerings!
So, thank you, Celia for bringing me down this path!
Celia
Celia is a whopping 80 episodes, each just a little under an hour. This is a series you DON'T want to binge watch. From the setting and music to the costumes and melodrama, take it slow so you can savor it all. I even watched the opening credits 80 times! Can you imagine how much work went into all those garments and sets? They deserve the extra attention.
Here's the trailer link in case you can't see it below.
Celia was the perfect fix for my travels. I couldn't watch it in my art studio because I don't understand Spanish enough, I relied on the subtitles, which are difficult to read while painting, gluing and glittering! And it made me look forward to flying because I may have been on a plane ride to Indianapolis, Miami or Texas, but in my little window seat – it was more like Cuba and Nueva York!
The series starts with Celia as a shy teen and an impromptu audition at a train station, which led to a domino effect for her career. All she had to do was sing and people instantly fell in love with her voice. And her.
The doors opened for her at the right time and the right place. We also see when Cuba is taken over by revolutionaries and how it affected Celia and her family. We meet Pedro Knight, the sly womanizer who fell captive to Celia's charm and changed his ways in order to win her heart. It took nine years!
Basically, the series guides us through all the high and low points of her personal life and career. The woman endured a lot but stayed true to her love of family and her beloved Cuba.
In case you are wondering, the actresses lip sync to Celia's original songs, so the music is authentic. I think Celia would have been proud!
https://www.youtube.com/watch?v=odaBHo-9KPQ
While I loved it overall, there were some dips along the way. A plot hole here, a disappointing cast change there, long stretches without music or story movement…but if you can look past that, you'll enjoy it.
You'll see there are two parts – young Celia and aging Celia. Towards the latter half of the series, I felt the storylines outside of Celia's were wasted. As in fictional characters added for entertainment, I guess. It's all due to the change in actors – and I'm talking actors that resemble NOTHING of the younger characters. It was really odd. Plus, I wished they'd used that time to show more of Celia's backstory with her managers, recordings, concerts. 
One more small rant – unfinished story lines! Gamita!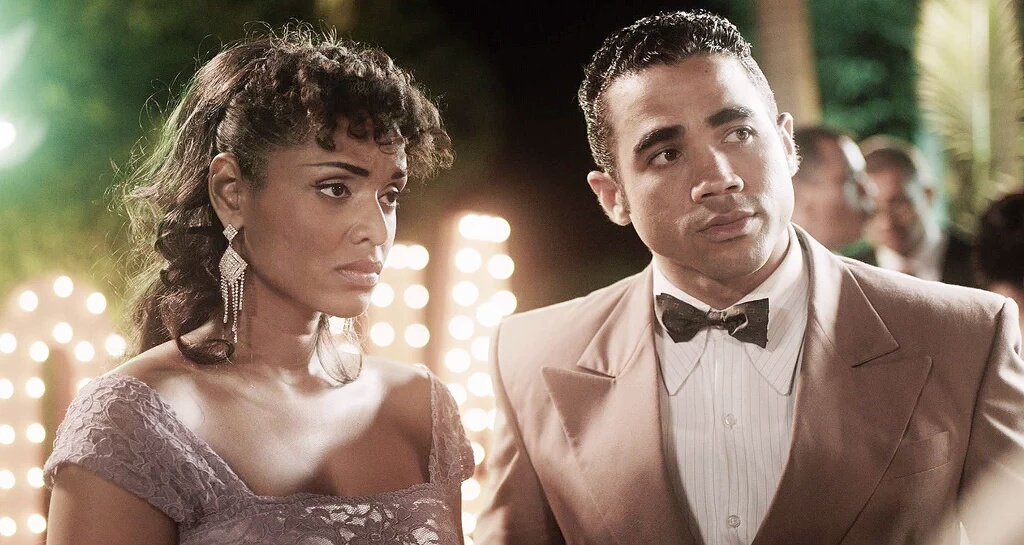 Speaking of Celia, check out this watercolor my friend Jeshua made for me! He is hooked on the series too, and he made this for me way before we even knew there would be a series!
Another reason why I loved Celia – I discovered the magical musings of La Lupe!
In the series, there is a character named Lola Calvo. After researching the show, I learned Lola was inspired by La Lupe, known as the Queen of Latin Soul.
Also from Cuba, she moved to NYC before Celia and kicked off the Latin music scene. But once Celia came to NYC, it's almost like La Lupe lost some of her limelight. Plus, La Lupe was controversial, outspoken, racy, and very theatrical with her live performances. Not everyone was a fan.
I've been listening to her music and watching old performances on YouTube. I'm obsessed!
NOTE: The storyline in the Celia series about Lola Calvo stops at the music. La Lupe didn't experience any of the horrors (that I know of) that Lola did.
Once I finished Celia, after four months and 80 hours of viewing time, life felt boring. Empty. Unexciting. Like when you return home from an international vacation. Even my husband noticed. He said, "Well now what are you going to do with yourself?"
Let's just say I've been keeping my Alexa busy with Celia and La Lupe playlists and I think I've even lost a couple pounds from dancing around the kitchen. That was all fine until the time came for another cross country excursion. Which brings me to…
---
Las Chicas del Cable is set in Spain, 1928 and centers around four young women who work at a phone company. They come from different backgrounds with a different set of challenges. An abused wife, a lonely hopeless romantic, a schemer with a suitcase full of secrets, and an upper-class daughter with strict parents.
I watched the English-dubbed version and it took an episode for me to feel comfortable with the vibe. But the actresses, the storylines, the music, the fashion, romance, and hello, SPAIN – worked together to hook me. My favorite kinds of movies and series are ones with multiple storylines that show women's backstories, how they fight society's rules, with a dash of glitz, humor, and tears. This series checks off all the boxes. It's a lil saucy for the time period, which makes it more interesting.  ¡Scandalosa!
Good news! Las Chicas del Cable has been renewed for two more seasons, watch for fresh episodes in December!
---
Ingobernable
You know what immediately convinced me to watch this series? The opening credits. Not only the beautiful mysterious and mesmerizing visuals but la musica.
I practically jumped out of my plane seat. "It's La Santa Cecilia!" I know La Marisoul's voice, unmistakable!
This series is also subtitled (if you need it) and is a political thriller focused on the Mexican president's wife who is accused of murder. It stars Kate de Castillo (Under the Same Moon), she is such a fantastic actress, she slays any role. Here she is a badass action star but also clicks into goddess mother mode when needed.
I have to admit, there are some scenes that are absolutely not believable or don't go far enough. As in, you can't hide in a crowd just by raising your jacket collar over your mouth. You are the first lady of Mexico, people know what you look like! A little hair bleach would have made more sense.
But it's a fast-paced story and delivers the eye candy on different levels. Um, depending on what kind of candy you are into.
I'm only halfway through this series, but I do know it's also been renewed for another season!
---
The Time In Between
I've written about this one before, it's based on a book I loved! It's not on download for Netflix yet, but you can stream it, and it has subtitles as well. It's about a seamstress in Spain who, through a series of circumstances, becomes a secret agent and uses her craft of stitchery to deliver top secret messages during the war! Whoa! Sewing, Spain and secret agents? Yasss!
Well, that's my list! Did I miss any?
I'll close out this post with some L-O-V-E for Celia! May her music live forever!