Big Hero 6 was a film I waited forever to watch. To be honest, I didn't think I'd like it. But at the begging of my kids, I loaded onto my iPhone to see during a flight. It did win an Academy Award after all, who am I to be snooty?
Basically, this was me in my middle seat on the plane.I LOVED IT! The story pulled at every heart string I had. All the other passengers asked for white wine or soda, and I asked for a handful of napkins.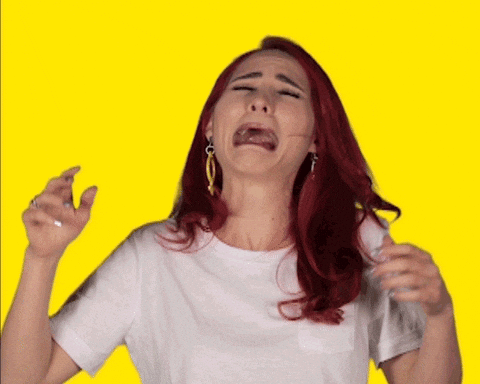 Big Hero 6 has that magical Disney formula of a misfit kid, Hiro, missing a loved one who passed away, who finds himself alone and unsure of his future. It's not until he befriends the unlikeliest of friends that he discovers his true destiny and confidence. It's a universal tale of redemption and pushing through pain, fear, self-doubts.
And it has lots of hugs!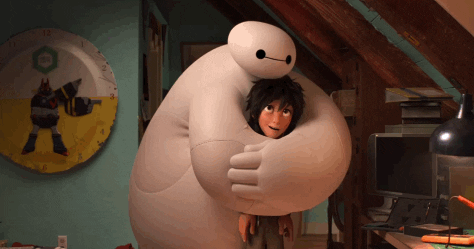 The movie did so well that now there is a new series on The Disney Channel, Big Hero 6 The Series. It debuts November 20th, simultaneously on Disney XD and Disney Channel with a one hour TV movie.
While I was on the Coco press tour with 25 other bloggers, we screened the movie in advance and interviewed the talent and filmmakers. The morning started with a tour of Disney Animation Studios, where Baymax has his own seating area. Of course, I had to cheese it up!
Then we went into a theater on the premises to see the movie. All I can say is if your kids (or you) enjoyed the original movie they'll love this series just as much. All the cast has returned to the roles (even Stan Lee!), plus a few additions. My favorite was Jenifer Lewis (Black-ish) who voices Professor Granville.
After the screening, we met with Ryan Potter (voice of Hiro), and Executive Producers Mark McCorkle, Bob Schooley & Nick Filippi.
While the first film was digitally animated, this one goes back to old school illustration and it really gives the show its own unique, signature vibe. It made me think of anime.
"We chose to go with hand-drawn animation partially because we wanted to create a new world and look for the show," says Filippi. "We wanted everybody to immediately recognize these characters, to embrace these characters that they fell in love with in the movie, but we wanted to have a fresh start on the show, so we choose hand-drawn animation similar to what Disney was doing in the 60's."
After seeing the first episode, I get what he means. Big Hero 6: The Series will definitely stand out. The line drawings give it a sense of warmth, while the tone of the plot is very futuristic.
"We fell in love with the idea of this mash-up culture of San Francisco and Tokyo, just because it was such a cool idea," Schooley says. "And that sort of informed the animation. We were like let's make it look like sort of traditional American animation. The stuff in it like noodle burger, which are hamburgers on Ramen bun roll. So there's a lot of that. And Muirahara Woods this is a smash-up. It's like Muir Woods and Tokyo's Aokigahara Forest."
It makes for a great combo for us! It's cool, silly, unpredictable, and clever like its predecessor, and also offers the same foundation of friendship and higher learning.
Not to mention, science!
"As soon as Bob and I first saw the movie on our way out, Bob turned to me and goes, it's so refreshing to see science being positive," McCorkle says. "Or being portrayed in a positive way that's not dystopian future or whatever, because when we grew up, science was, let's get an astronaut to the moon like it was about solving problems. It was about the future and reaching and striving and I feel like we kind of lost that a little bit. So for us, it's nice that you have this group of kids that are all smart and being smart is cool."
Potter eagerly agreed and told us loved that the series offered more chances to go deeper into storylines and word choices.
"I think with the series," Potter says. "We could just have a lot more fun. Not to say we put less work into this because that's not true at all. But I would go in for a specific scene for the film four, five, seven, eight times. With the series, I go in once to record an episode, and we get to go in the booth and play around with the entire episode. And we throw ideas back and forth, as opposed to me coming in two months later with brand new ideas."
Big Hero 6 The Series debuts November 20th, simultaneously on Disney XD and Disney Channel.