I love piñatas, but it makes me sad to think they'll be smashed to smithereens. Therefore, I present this piñata craft: Photo frames! Not for smashing, but for decoration. They can also be used as shadow boxes or even candy trays!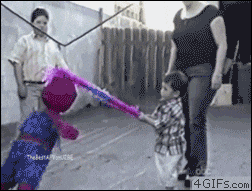 You can buy or make a big piñata for the party activity, and then make these smaller ones as giveaways, decorations or centerpieces. This idea makes me so happy, I love functional ideas! 
This is an awesome idea because you probably have everything on hand to make one. There are so many ways you can use this!
Supplies to make this piñata craft:
Cardboard box
Craft knife and scissors
Pencil
Hot glue
White craft glue
Party streamers or colored tissue paper.
Directions: Draw (or use tracing paper) a design on a piece of cardboard, then cut a second piece. Cut a square in the front on one piece, this will be the front. You can adjust the size however you want. You can even cut a circle or a heart instead of a square.
Cut a 1" wide strips of more cardboard (great way to use up the excess!). Hot glue the strips around the inside of one of the pieces. Place the second piece on top and glue or tape in place.
RELATED: Mini-Sugar Skull Pinatas
Optional: Paint the base of the piñata to match the tissue paper/party streamer.
Cut strips of the party streamers, make snips to create the fringe and then use white glue to affix it in rows. If you are hanging it on the wall or setting it on a table, you don't really have to add fringe on the back.
Add other embellishments as desired!
Cut a hole big enough to put candy inside and use it as a centerpiece!
RELATED: Sugar Skull Pinata DIY
I shared this on Tip Me Tuesday!