This is part of a sponsored collaboration with The National Hispanic Milk Life Campaign and DiMe Media. However, all opinions expressed are my own.
Have you ever made fresh strawberry milk? Or even tasted the stuff? If not, my friends, I am here to change your taste buds FOREVER. Let me back up to explain how this came to be.
I was invited to participate in the #FuertesConLeche campaign and come up with a recipe that included milk. Also, inspired by March Nutrition Month. I wanted to make a treat, but something simple and with the right amount of sweetness. 
Of course, I said yes because aside from water, coffee, and ice tea, milk is the only other beverage I consume. My mom used to always scold me as a kid because I was the one who drank all the milk, and my brother never had enough left for his cereal or my dad for his morning coffee. 
Chalk it up to another middle-child trait, I guess.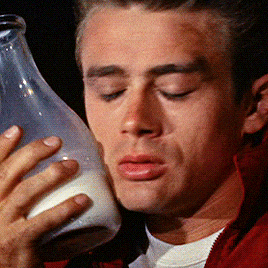 Now as an adult (and a mom), I've learned to manage my love of milk so there is enough for everyone. I love that milk is one of the OGs of the grocery store. Farm-to-table. It is delivered every 48 hours, which means it is fresh and locally sourced from family-owned and operated dairy farms.
But milk is more than just for cereal or coffee. It's the foundation of so many delicious entrees, sauces, desserts and more. So when I thought of ideas, I wanted to come up with something that could be used in all of these ways.
I chatted with Patrick and he told me how his mom used to make strawberry milk for him as a kid and how much he loved it.
THAT'S IT! I thought! I decided to make strawberry milk and then use it in a variety of ways. The biggest appeal is that it only adds a bit of sweetness to your glass of milk. Regular white milk has no added sugar as it is, so you can feel good about serving it to loved ones.
Before we go into my recipe, check out the FuertesConLeche site to see all the wonderful ideas by Chef Lorena Garcia! She focuses on creative ways to help families live a healthy lifestyle.
https://www.instagram.com/p/BgEYC6kn0It/?taken-by=siempreleche
These recipes all showcase the benefits of milk. For example, did you know milk has nine essential ingredients including protein to build lean muscle? There are 8 grams of protein for every 8-ounce glass! It also contains bone-building nutrients like calcium, vitamin D, and phosphorus. B vitamins for converting your food into energy. Vitamin A for a healthy immune system. And potassium to assist in regulating the balance of fluids.
How to Make Strawberry Milk
Ingredients:
1 cup of fresh strawberries, chopped
1 cup of water
½ cup of raw sugar (you can use white sugar, but I like brown)
1-½ cups of milk
RELATED: How to Make a Lavender Latte
Directions:
Combine the strawberries, water, and sugar in a medium saucepan and heat on medium high until it boils. Once it boils, stir for 15 minutes until the mixture becomes thick.
Use a strainer to pour the mixture into a jar. The syrup will go into the jar and the strawberry chunks will stay in the strainer, save them!
Pour the milk into a jar or container. Add one tablespoon per cup of milk and stir. You can adjust more or less, depending on your desired sweetness. Pour into chilled glasses and top with strawberries! Cheers!
Once you make the strawberry milk, aside from drinking it, you can have fun and combine it with other recipes. Check out my video tutorial where I show how to make it  – and then use it as a substitute for water in a cake (or box mix) recipe.
It's pretty dang fantastic. And again, it's only lightly sweet, you don't even need frosting or icing. I used an angel food cake mix and added the strawberry milk and the leftover strawberries from the syrup I made. It was sooo delicious! 
You can also cut the slices into smaller bite-size pieces!
You can also use it for smoothies, with ice cream, even freeze into popsicles.
Thanks for reading and make sure to follow #FuertesConLeche and Milk Life online to see what other creators have come up with!