It's the million dollar question.
Who in the world would be gutsy enough to step into the shoes of a young Han Solo?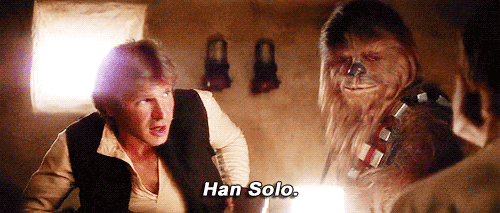 A very brave Alden Ehrenreich.
While he looks a little serious in the clip below, the 28-year-old actor is actually quite joyful about the entire experience. Nerves and all. I was part of a group of 25 bloggers who were invited to the SOLO: A Star Wars Story press junket, and we sat down and chatted with the star. Upon entering the room, he shared a vulnerable "Oh my God this is really happening!" moment.
He barely slid into his seat when someone asked about Harrison Ford. Ehrenreich chuckled, shrugged, and shook his head in disbelief.
"Well before I answer that," he said. "I just have to sort of excuse myself. I'm in sort of a daze because I was just doing an interview and he (Ford) came up behind me and… it was just wonderful. I haven't talked to him since I met with him for lunch before we shot."
Can you imagine starting a day of press interviews about playing a young Han Solo, and having THE Harrison Ford sneak up behind you? Yeah.
That's what happened. And here is the clip to prove it!
Here's the link if you can't see it below
The only thing better than one Han Solo is two. ❤️ Harrison Ford dropped by @CameronMathison's interview and surprised #SoloAStarWarsStory star Alden Ehrenreich! The full interview will be on https://t.co/issuFApt4j tomorrow. 🙌 pic.twitter.com/5hy4GoZrhg

— Entertainment Tonight (@etnow) May 12, 2018
Ehrenreich said his nerves were calmed just a bit upon finding out that Ford loved the film and gave him his blessing. But with four iconic films under that infamous belt, Harrison Ford as Han is burned into our brains for eternity, right?
Not after this film.
According to early press articles, producers chose Ehrenreich because they felt he struck just the right balance of contemporary-meets-classic Star Wars style. He could be taken seriously as everyone's favorite rugged intergalactic smuggler, and also make our hearts swoon with comedic relief and vulnerability. You can read my review here to see how I think he did.
Before signing on for SOLO, he starred in a roster of films including Beautiful Creatures and the comedy Hail, Caesar!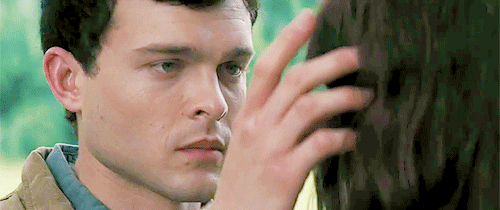 None of those offered the same amount of homework needed for SOLO.
Ehrenreich says he clocked in the hours to live up to the task. I asked about specific mannerisms he practiced to make his Han Solo so believable.
"Well, there's several things, I don't want to name them because then it's like you're watching for them and I want people to just watch the story," he confessed. "But I think one of the qualities about him that I really love, you know, there's a moment in A New Hope where I can't even believe it still –
He pauses mid-sentence, still processing Ford's prank.
"I'm still in a state of shock! He's, like, down the hall!"
Then he picks up where he left off to answer the question.
"There's like a moment where they're pinned in a corner and they don't know what to do and he (Han Solo) just starts yelling at the top of his lungs and running at them (Stormtroopers). And I feel like that's a great quintessential thing of the essence of this guy."
Sitting tall and talking about his experience, Ehrenreich exudes confidence. And rightly so. Hours earlier we all attended the world premiere and the overall consensus was enthusiastically positive. Ehrenreich realizes he's going to have critics. Especially the tried and true hardcore Star Wars fans. He's ready to face them front and center.
Just like Han would!
https://www.youtube.com/watch?v=dK3ypzMGoN4
"There's certainly the more pressure with something like this, because it's so enormous, of course," he says.  But the kind of pressure is the same as it is on any movie, which is you want people to really like it. And the only recourse you have in the face of that is to concentrate on what you have control over, which is A: Not very much. And basically… I think there's not a B, I'm just going to keep talking…"
We all break out in laughter. This guy has charmed us all. He may be a huge movie star now, but he manages to keep a humble vibe. He's been a Star Wars fan since childhood – The Empire Strikes Back is his favorite film thanks to Yoda. From collecting the toys to rewinding the VHS tape to see the film, again and again, he considers himself a true fan. 
Like many kids, he pretended to sit in the pilot's seat of the Millennium Falcon not ever imagining that experience would manifest into a star-studded job. When he received the news that he landed the role, it put him in a daze of disbelief.
And the main rule? Don't tell a soul.
"So, you know, I did," he says, a mischievous gleam in his eye.
Of course, he had to tell his family right away. But then what?
"All my friends were at work, and I just kind of didn't know what to do," he recalls. "So I was like, well I should find a way to celebrate this. So I went to the (Santa Monica) beach and I stood around. And I walked around. And then I found myself at the pier. I was like, well I guess I'm here, I should go on a ride. So I just rode a roller coaster by myself."
Something we'd all do, right?
Ehrenreich has great memories of working with Joonas Suotamo, who plays Chewbacca in the film.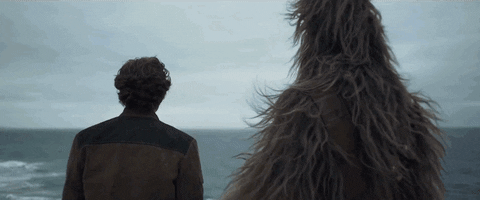 They were the first two cast members on set and bonded with stunt training, boxing – and playing uncountable rounds of video games. Halo, to be specific.  
When it came to working with Emilia Clarke who plays his love interest in the film, he confesses he hadn't watched her famous series, Game of Thrones. The duo spent many hours together and now consider each other great friends because of the experience of shooting the film.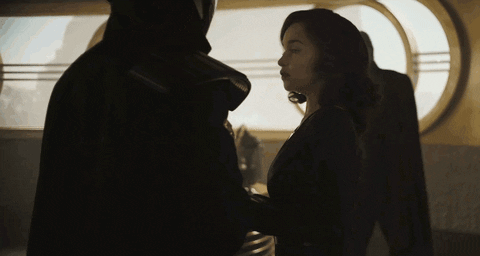 Decades from now, he'll look back at this time and smile. Not because of the fame or franchise, but because of the life lessons.
"I've treated the whole experience like a great exercise in learning – in very high stakes, in a very big situation, how to navigate how much you care about," he says. "What weight you give to the opinions and thoughts of other people and how much you try to listen to yourself. It's a great challenge in a sense from, in a character way and a spiritual way to try to navigate that. That's been really rewarding."
SOLO: A Star Wars Story opens May 25th.