Paul Bettany in SOLO: A Star Wars Story
It's the most infamous, notorious, yet satisfying club: The villains of Stars Wars.
From Jabba the Hutt and Darth Maul to Kylo Ren and of course, Darth Vadar, these dastardly dudes are essential to the story. They thrust our heroes into unimaginable, certain-death feats to save the galaxy. Without them, every Star Wars film would be as exciting as watching R2D2 receive a 3-hour software update.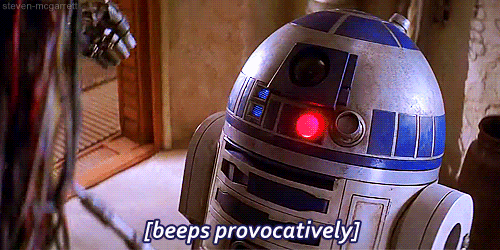 Well, rest assured, SOLO: A Star Wars Story has a fresh antagonist for all to fear. His name is Dryden Vos and is played by the talented Paul Bettany. And he's the perrrrfect bad guy.
Conniving.
Greedy.
Cold and calculating.
And his eyes bleed whenever he doesn't get his way!
I was one of a group of 25 bloggers who were invited to the SOLO red carpet premiere and press junket, and we had a sit down with Bettany.
But before we even started, we startled him with a round of claps and cheers as he entered the room, taking him by surprise. He immediately warmed us up by making us laugh. While we were embedded in the world of droids and flying ships, Bettany brought us back down to earth with a quip about the stresses of his family life and moving from one house to another.
He's just finished texting his wife, actress Jennifer Connelly.
"Poor thing, we're in the process of moving right now and I've just been doing like back-to-back press tours so she's super happy at me," he says in a sarcastic tone. "She's so glad that I'm in Los Angeles and not actually packing up tea chests, as you can imagine…"
That dry English humor gets us every time. This is a guy who has acted in a slew of popular films – A Beautiful Mind, the Avengers franchise, and many others, yet is able to make each and every one of us feel like his favorite next door neighbor.
But enough about tea chests, let's talk Star Wars bad guys!
Dryden Vos is a well-known gangster in the Galactic Empire, a crime syndicate Godfather of sorts. He's known for his luxurious lifestyle as much as his knack for ruthlessly offing anyone who betrays him. And you can bet Han Solo (Alden Ehrenreich) will test those lines.
"I think that my Star Wars villain, I really wanted to do something very different," Bettany says. "I felt like I could because of the offshoot films. You know, they're not encumbered with the same set of responsibilities that the main franchise are encumbered with."
"There is the possibility to have a more playful tone," he says about playin Dryden. So, I really wanted to sort of be quite loose with it. He is an entrepreneur. He knows who he is and is super happy about it. Like, no problems with being bad. I mean, and he's really, really gifted at hurting people. Some people are gifted at playing the piano or whatever and he's really gifted at torture and murder."
In other words, moviegoers will squirm when he comes on screen. And to think it almost didn't happen.
Rewind to the early days of filming, a different actor was cast in the role of Vos. But when Ron Howard took over as director and had to reshoot, the former actor wasn't available. Bettany said he used another talent of his – passive pressure – to get the role.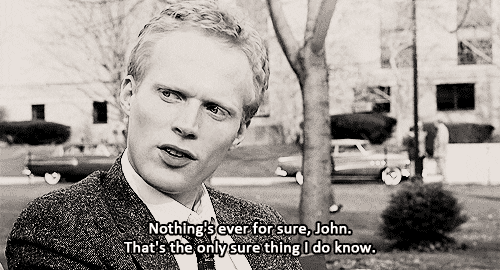 As a kid, Bettany says the Star Wars films were a favorite for brightening up drab London school days. The Force has been with him ever since. He really wanted to be a part of the series.
"So, suddenly, but now I'm in the Avengers so I think there's no way I'm ever going to be asked to be in Star Wars," he says. "Unless Ron Howard becomes the director. And that happened. And so, I texted him. I literally texted him this: 'Hey, Ron, have you ever spent long winter evenings, like I have – wondering why you're not in the Star Wars franchise? And he said, 'You know, give me a moment. And, LOL, two weeks later I was flying to London to shoot it!"
His face brightens when he shares the moment he realized he was, in fact, in a Star Wars film. When he joined the cast, everyone else had been working on the film for at least eight months. Bettany said he walked on set and practically had to pinch himself.
"I kept elbowing him (Ron Howard) and saying, we're making a Star Wars movie! We're making a Star Wars movie!" he beams. "And my first day, in fact, as I was on my starship, I was coming down the spiral staircase and a super chic asymmetric cloak I think you probably all noticed. And an R2 unit went by me with champagne flutes on and I went, f*ck, I'm in Star Wars. And that was amazing, yeah."
Even though he plays a bad guy on the big screen, when the cameras stopped rolling, he became Everyone's Favorite Host. He didn't only bring his own kids on the set for tours and photos inside the Millennium Falcon, he also invited friends and their kids, neighbors – whoever wanted to feel the intergalactic magic.
"Oh, my God, I was like a tour guide," he jokes. "It's like, 'You've got to bring the kids. I can take you on the Millennium Falcon! I was just endlessly leaving set to take children around because it's amazing seeing their faces. I mean it's just, it's phenomenal."
It nice to know even bad guys have a soft heart!
SOLO opens May 25th!
He even has his own Funko Pop!
Thanks for checking out my post about Paul Bettany in SOLO: A Star Wars Story!