And…THIS happened! I was one of 25 bloggers selected to attend, walk the red carpet, and interview the cast from the new summer blockbuster, SOLO: A Star Wars Story movie premiere. Follow #HanSoloEvent all over social media to see everyone's posts! It's the next best thing to being there!
I also am giving away a T-shirt I received at the event, scroll down for details of how to enter!
I reviewed the past Star Wars movies here because I love them, storytelling at its finest. The one thing that makes me love the Star Wars series so much is that the plots are so universal – they are about freedom, love, connecting with one's destiny, overcoming fears – with a healthy dose of chuckles in just the right spots.
REVIEW Star Wars: The Force Awakens
Does 'The Last Jedi' Live Up To 'The Force Awakens?'
I'll have my movie review coming up next week, but for now, I want you to know to get ready for SOLO. Buy your tickets (it opens May 25th), maybe DIY a cool outfit – because this is truly the perfect summer popcorn film. You'll likely end up seeing it at least two times to catch all the goodies offered.
For this whole experience, I'd have to say the one thing I most worried about was what to wear on the red carpet. Our directive for clothing from the powers that be?
"Wear something that will make people say, 'You look beautiful!' and have them really mean it."
Talk about pressure! I don't do high heels anymore, and I really wanted to look beautiful, but feel beautiful (comfortable) too. I asked Phoenix designer Jen from Em_Erge if she could whip up a Star Wars themed skirt for me. No prob, right? Well, we had a really tight turnaround time. I also asl the brilliant Meagan from AvasLookBook, but with only a week to go, I had to come up with a Plan B!
Thankfully Lane Bryant came through! I found the perfect gown, basic black! I dressed it up with gold accents, including the Chewbacca bag Patrick painted for me. I thoght it was going to be cold, so I wore arm sleeves.
After spending a full day at the Walt Disney Studios lot in Burbank, we returned to the Sheraton Universal hotel and had two hours to freshen up for the red carpet. The other blogger's outfits were gorgeous, over-the-top Hollywood glamor! This is my second blogger red carpet adventure, Coco was my first. I definitely feel more familiar with the run of the show, so if I'm ever invited to another event like this, I'm going to push myself to be more glam. I always get a bit anxious when it comes to formal wear, but just like with everything else in life, I really want to push through that fear and find my sparkly happy ground in fashion.
Here is the Holy Grail of badges…you know how I know? Because when I left the Dolby Theatre at the end of the night, people outside literally tried to BUY it off of me. I immediately removed it and hid it in my pocket. I'm keeping this baby forever!
Once we made it past the badge area, we literally entered the Millennium Falcon – well… a lifesize version created for the event on Hollywood Blvd. They shut down the street for this party!
Going through the red carpet line felt surreal. Everyone's energy banks peaked from anticipation, including mine. There are actually two red carpets, one in front of the photographers, and one in the back for people who just want to get into the theater. And at the end of the red carpet sat a couple of stellar photo opps with complex sets.
Here is a livestream from the event!
But then we heard an announcement to go into the legendary Dolby Theatre – where the Oscars take place!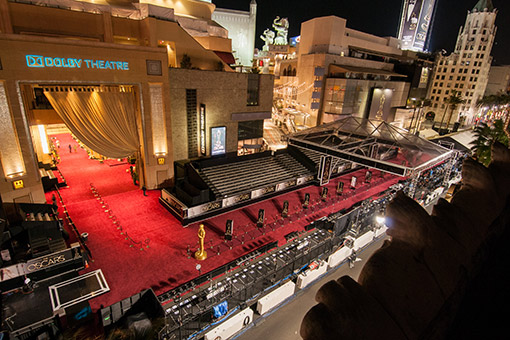 When we arrived inside, we had to surrender our phones to sealed cases. This was the most tragic portion of the night! No photos in the theatre!
Our seats were in the CENTER Orchestra area, sixth row – best in the house. And all of the cast had to walk in front of us to get to their seats. First, Geoge Lucas came by and the entire theatre roared with cheers and applause. One-by-one the rest of the cast came through, right in front of us! All of them had a huge look of pride, we all knew they worked hard to get to this point in the night. The payoff!
And not just the cast, there were a lot of other stars in attendance. and of course, the crew.
Here is a slideshow of the stars, so you can see what I mean!
After the film, we headed five floors up to the main ballroom for the after party. Wall to wall people!
Okay, let's talk celebrity encounters. If you look at any of these photos, you can likely see someone you've seen on the big screen. I'm not the type to ask for photos with celebs. Sometimes – only if the vibe is right. I don't like to impose on people. I know, I need to step it up! LOL! But here are a few pics of people I met and chatted with!
First was Joonas Suotamo, because I saw his eyes take a double look at my purse. He plays Chewbacca in the film. I held it up and he smiled, so I went in for a pic! Really nice guy! I have an interview coming up with him next week!
And then I spotted THE Mark Hamill surrounded by fans. How could I not snap a picture of Luke Skywalker? I didn't want to impose, so I held up my phone over my head and he saw me and did this…
I was so excited, I tweeted it!
That's how you win over fans. He looked like he was having such a great time and made everyone feel special.
Tonight I learned why @HamillHimself is so loved! He went out of his way to gimme a fun shot! Great guy who is kind to fans! 😍#HanSoloPremiere #HanSoloEvent pic.twitter.com/M7NDzuNiTq

— Kathy Cano-Murillo, The Crafty Chica (@CraftyChica) May 11, 2018
And then, this happened – I met Chewbacca in the flesh…err, I mean FUR.
Emilia Clarke was there as well as the other SOLO cast members.
I also met the dapper Trevor Jackson from the Freeform series, Grown-ish.
Even though my feet cried and whined the whole time, I covered every inch of the party. At the end of the night, I went outside to look out beyond the balcony and soak it all in, knowing it would become a memory in less than an hour.
This night taught me about being open to opportunity, pushing through fears and insecurities. Celebrating life right now, no matter what the situation. All of these people at this event were there because they pushed to find and live their passion. You never know where it will take you!
AND making the most of the moment because it will pass. No regrets!
Sure enough, when I stepped outside, look. The crew had torn down the entire set already!
SOLO: A STAR WARS STORY opens May 25th!
Synopsis: Board the Millennium Falcon and journey to a galaxy far, far away in "Solo: A Star Wars Story," an all-new adventure with the most beloved scoundrel in the galaxy. Through a series of daring escapades deep within a dark and dangerous criminal underworld, Han Solo befriends his mighty future copilot Chewbacca and meets the notorious gambler Lando Calrissian, in a journey that will set the course of one of the Star Wars saga's most unlikely heroes.
The film stars Alden Ehrenreich, Woody Harrelson, Emilia Clarke, Donald Glover, Thandie Newton, Phoebe Waller-Bridge, Joonas Suotamo, and Paul Bettany.
Ron Howard directs "Solo: A Star Wars Story," and Kathleen Kennedy, Allison Shearmur and Simon Emanuel are the producers. Lawrence Kasdan, Jason McGatlin, Phil Lord and Christopher Miller serve as executive producers. Jonathan Kasdan & Lawrence Kasdan wrote the screenplay.
Follow the journey!
Website and Mobile site: http://www.starwars.com/films/solo
Like us on Facebook:  http://www.facebook.com/starwarsmovies
Follow us on Twitter:  http://www.twitter.com/starwars
Follow us on Instagram: http://www.instagram.com/starwarsmovies
SOLO: A Star Wars Story T-SHIRT GIVEAWAY!
This is a women's size XL.
Thank you so much for reading and stay tuned for my interviews!