When your parents are Mr. Incredible and Elastigirl – it's difficult to impress.
But because of their own set of quirky superpowers, Dash and Violet Parr are able to stand out on their own in Incredibles 2. Within a blink of an eye, Dash is able to move from one end of the room to another. And Violet, she projects a giant protective bubble whenever danger creeps too close for comfort.
But it's not just how they're drawn, or the storylines that make these beloved characters shine, it's their voices.
Dash and Violet come to life
That's where Huck Milner and Sarah Vowell step in. The duo voices the roles of Dash and Violet and I recently had the chance to sit down and talk with them about the film. I was one of 25 bloggers invited by Disney to attend the press junket in Los Angeles.
Huck and Sarah sauntered into the hotel suite and slid into their seats – cool and comfy about their contribution to a film that would go on to score a $182 million dollar opening.
Both of them credit writer and director Brad Bird for helming the success. Sarah, who is as joyfully sarcastic in real life as her character of Violet, shares the story of how he discovered her for the role. No auditions or casting calls. She went about her business working as a reporter for NPR when this happened…
"I think Brad was in his car listening to the radio and heard one of my public radio documentaries," she says. "(He) was so taken with the gravitas and maturity of my voice that he heard a junior high school student who becomes a superhero in that. So, yeah. People who are actors are like how do I become a voice actor. Like, go into journalism."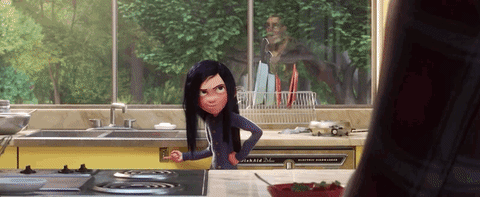 Very untraditional by Hollywood standards. But that's what makes Sarah so perfect for  Violet. The teen protagonist plays devil's advocate to her family's plans, and always has a dry clapback to Dash's concerns.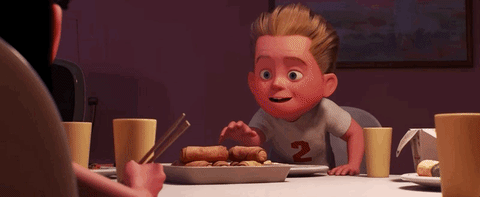 Yet, despite that confidence, Violet is probably the most vulnerable of the family. Not only is she still awkwardly refining her superpowers, but she's also dealing with boy crushes – and watching over baby Jack-Jack.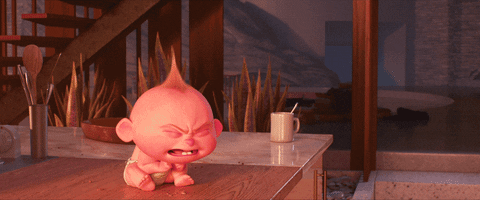 "Not a week goes by I haven't talked to someone who wants to talk about how much they love the film or what Violet means to them," she says. "Violet, especially when the first movie starts, she hasn't really developed her powers yet, but she has them and they reflect kind of her insecurities and her annoyances."
Being invisible can be a good thing
So, like becoming invisible is sort of like that teenage girl thing where you just wanna like, you know, hide. But then as she, you know, develops her powers and becomes her person and comes into her own and learns how to use the powers, and not only learns how to use the powers but enjoys using the powers, then they become her strengths. And then those powers really reflect what she can do and not what she's afraid of."  
Sarah cites a defining moment with her character that came in the first film.
"There was that moment in the cave and Violet, you know, on the island when they need to go save Bob and Elastigirl," she says." And Violet is like I don't know if I can do this, and her mother says you've gotta step up. And she decides, okay, I'm gonna try. And she goes out of the cave, and like she stands up and, you know, almost does the superhero pose and puts her mask on…and…"
As she's talking through the tender moment – Huck interrupts her.
"And then probably after that, Dash annoys her," he jokes.
She stops. And gives him a death stare. "Yeah, yeah, she deadpans. "Well, I mean she's in a superhero family. She's not Wonder Woman. Wonder Woman doesn't have a little brother."
It's this natural camaraderie that makes their scenes so fantastic on screen. And they never even met until recently. But now, in real life, they riff off each other, which causes our room to burst out in giggles. It's like an extended scene from the film happening right before our eyes.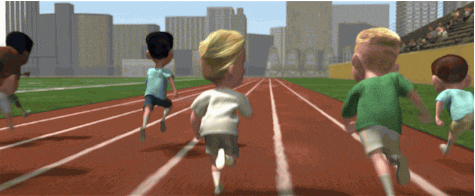 Huck goes on to tell us about the day he sported an Incredibles suit and ran around the Pixar studio lot in order to prep for his lines. He even shares about the time when Dash needed to laugh, Huck couldn't nail it just right and he had someone tickle him.
A bigger message
Both actors are hoping for a future sequel – and agree that they are proud of the message Incredibles 2 sends. And we're not talking about crushing buildings or punching out the bad guy.
Something much more important.
"By the end when they're all working together" Sarah explains. "The goal, I would say culturally for us as a society, is maybe everyone gets to become the person they're supposed to be. They all get to be who they are equally, and they all work together. And each of their individual powers, using those collectively for the greater good. To me like that is an exciting, functional society where everyone gets to do that."
Little Huck listens intently to his co-star, then his eyes brighten and he pushes his eyeglasses up his nose. He has something to add
"It's like what Winston Deavor (another Incredibles 2 character) said when he said…"
Sarah interrupts – "I thought you were going to say, Churchill."
10-year-old Huck doesn't skip a beat. "He said, 'We finally did one thing that's really rare.' And I sort of thought went with that, because everyone was agreeing on like helping the city and helping doing all the stuff that they were doing."
Incredibles 2 is now playing nationwide!
Related stories:
Craig T. Nelson and Holly Hunter interview