When I first began making and selling my Latinofied home decor goodies, like, um, TWO decades ago. My vision/branding strategy was always to "be my own version of Hallmark." Little did I know someday I'd have the chance to walk the hallways of the corporate office!
See, I made (still make) all kinds of boxes, flower pots, cards, picture frames, all Latina-centric and all with a positive vibe. I LOVE sentimental crafts, ideas, gifts to give, so it seemed to be a natural fit. In those early days, I hand made and sold my wares to more than 300 stores, some of them independent Hallmark stores. But Patrick and I just couldn't keep up the manufacturing portion in our tiny house while raising two little kids, so I switched gears to TEACHING people how to make their own gift items. We all know how that went (it's now my full-time job!). Not only do I have my DIY projects here, but I still make my own giftware line in my online store – all with positivity as the foundation.
https://www.instagram.com/p/BjX-S9tggoY/?taken-by=craftychica
Three years ago, and every year since, I've incorporated 'working with Hallmark' into my vision board. I never specified in what way, but I put it on there. Well, last spring while at Hispanicize in Miami, I noticed the head of Brand Development for Hallmark Vida was presenting to the marketing side of the conference. I didn't have a ticket, but in the blur of a moment, I pulled a ninja move and snuck in. I literally sat down at lady's breakfast plate right after she left her spot. I wanted to hear the presentation so badly!
I ended up meeting this executive after his presentation and guess what? He invited me as a panelist to speak at Hallmark for Hispanic Heritage Month!
Proof that vision boards really do work! The experience was above and beyond my expectations. We flew in and then had dinner at a bomb BBQ place in Kansas City. We met most of the Hallmark Vida staff and talked about all things creative and cultural!
The next day we woke up bright and early and made our way to the corporate building. All I can say is its everything you'd expect. Bursting with color and oozing with extreme creativity. I felt sorry for the guy taking us around on the tour because us bloggers stopped to take pictures of every little scene – there were a lot of them.
We visited the trends area where we learned about the sketchbooks the artists create. These are blank journals for artists to play, explore and experiment with concepts, colors, ideas, lettering, etc. There was one person's sketchbook that was so fabulous it was turned into an entire product line, including this bag! You'll get one when you shop at Hallmark Gold Crown!
We also learned a lot of trivia about Hallmark. Like how every Christmas, the Hall family comes and visits with employees. And how the team at Hallmark invented wrapping paper for gifts! I found this article from Mental Floss that lists all the cool history and facts.
And they sent us home with a bag of goodies!
My biggest takeaways from the day:
https://www.instagram.com/p/Ba_kYGohkEF/?taken-by=hallmarkvida
VIDA is the Latino brand of Hallmark and is comprised of a mostly all-Latino staff. Their job is to create cards and gifts that we want to give and share. When you are shopping in gift stores or Hallmark stores, ask the store manager to carry the VIDA line, let's create a demand!
The artists actually sit and create in their desk areas. It's like crafty heaven! They have work tables to create, but also team members work at their desk too.
The whole mission of Hallmark is to motivate people to care about others, and themselves. I think that is why they are so successful, the world needs more love!
There are new products being designed and developed every day.
One of their team members came up with the popular sentiment "She believed she could, so she did." MIND BLOWN! I've seen this quote everywhere and had no idea where it came from!
Follow them on Instagram to see more.
This is not a sponsored post, this is a pure excitement post from my epic visit! I'm creating a new vision board with more Hallmark, lol! Because why not?!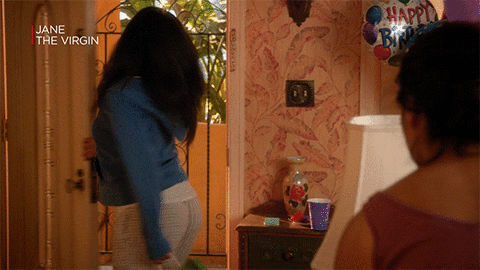 If you are ever in Kansa City, MO, you can visit Hallmark's Visitor Center! What is something, a goal or whatever, you have one your vision board and has it happened yet?