You guys! Captain Marvel is out on Blu-Ray/DVD this Tuesday, June 11!
The film is the studio's first-ever female-led franchise and it didn't disappoint at the box office. 1990s-era super she-ro adventure rang up $1 billion in ticket sales to date. The story centers on Carol Danvers – Captain Marvel as she deals with not only saving the world from intergalactic villains but also coming to terms with her mysterious past.
The movie is exciting and nail-biting, but also a bit campy and hilarious, in true Marvel Studios style.
I LOVED the film. I thought Brie Larson really fleshed out the role and made us fall in love with Carol. So, yeah. I was delighted when Marvel Studios sent me a Carol Danvers Movie Night Kit to celebrate the Blu-Ray/DVD release!
The kit came with all kinds of movie promo items like a fleece blanket, a lunch box, ice freeze pops, popcorn, Secret Skrulls game, aviators, a Heart t-shirt, and a Shield hat!
The Captain Marvel watch party!
As it turned out, my friend Emily's son – Logan – is a HUGE fan of the Marvel series and he just happened to be celebrating his high school graduation.
I decided to share all these goodies at his party. His friends love the movie and the Avengers series as well. It was awesome to break out the box with all these items and see their faces light up!
First they played the game…you can buy it on Amazon, as well as some of the other items from featured here. As far as the lunchbox, you can DIY your own by using craft paint on a plain lunch box.
Movie time!
The Blu-Ray/DVD comes with several featurettes, behind-the-scenes commentary, bloopers, deleted scenes, concept art, and more. Here are some specifics on the featurettes:
– Becoming a Super Hero – Follow Brie Larson's journey as she joins the MCU, and see what it takes to be a Marvel Super Hero in every sense of the word.
– Big Hero Moment – Explore how impactful Captain Marvel's entrance into the MCU is, and how she inspires audiences around the world.
– The Origin of Nick Fury – Witness some of the MCU's most significant events through Nick Fury's eyes, and see how his influence helped shape the MCU.
– The Dream Team – Discover why Anna Boden & Ryan Fleck are the perfect pair to direct Marvel Studios' most powerful hero.
– The Skrulls and the Kree – Take a deeper look into the Skrulls and the Kree, their ongoing conflict, and the importance of shifting perspectives in the film.
– Hiss-sterical Cat-titude – The cast and crew dish on working with Goose and the raw talent it takes to portray such a complex character on-screen.
In addition to the promo items, I knew I had to make some snacks. I added gold edible glitter to the popcorn, and a touch of red and blue sprinkles to represent Captain Marvel's suit.
Then I printed out her image on glossy photo paper, attached toothpicks and made cupcakes (also with gold edible glitter) and added the photo toppers!
Are you as excited as I am about another round of Captain Marvel, this time at home instead of at the theatre? Make it an event! invite friends, make some cool snacks and kick off summer in Captain Marvel style!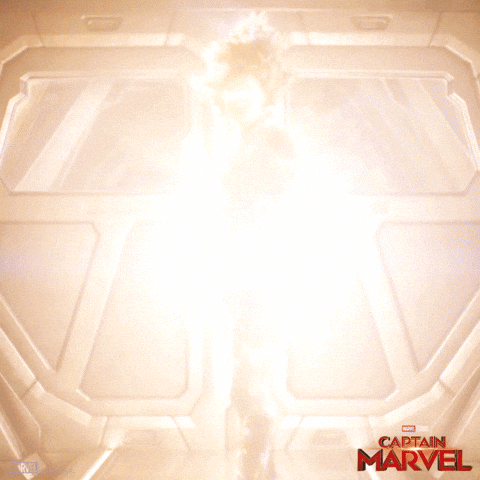 Don't forget – Captain Marvel is out on Blu-Ray/DVD this Tuesday, June 11!
Special thanks to Logan and his friends for helping me with this party! 🙂
Love & light,