My new Forever Frida book, is now here! A year ago this week, my fingernails were bitten off. By me. That's because a couple of days earlier at our annual Phoenix Fridas birthday party for Frida Kahlo, I received an Instagram message. I didn't have time to read it, but something about it made me pause and glance.
"We're looking for someone to write a book about Frida Kahlo, are you interested?"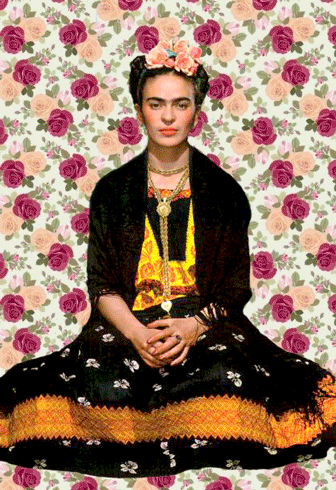 How this Forever Frida book came to be!
And it happened to be from an editor at Adams Media (Simon and Schuster). Without a second thought, I replied, "Yesss! I'd love to!"
I didn't even read the rest of the email, I knew this project was meant for me. Since my novels were published, I knew I wanted to author a 10th book, but no matter how hard I tried, it wasn't coming together. Rejection after rejection. Even after using manifestation passwords, and prime vision board placement.
Finally, for 2018, the idea was set aside. Not as a way to give up, but just to take a break because it was really draining my soul and my confidence. Another book in me was my destiny, but I stopped chasing it. No expectations. And wouldn't you know, that's when this project came to me.
The next weeks were intense because I learned the publisher wanted to fast track the book so it could be released in time for Frida's birthday this year. Normally it's about an 18-24 month process. I cleared my workload and strived to formulate an outline to fit with the concept the publisher had in mind. I still didn't have approval. It's like clearing hurdle after hurdle after hurdle. But I never gave up. After a few months of sample entries and more outlining, the project finally received the green light!
I barely had time to blow a party horn because that was mid-September and my first deadline was in November!
I bought every Frida book I could find and started pulling together interesting and little known facts. And debunking myths. And gathering quotes and sources.
By mid-October, I knew I couldn't proceed unless I did something very important.
I had to visit Frida's house in Mexico City.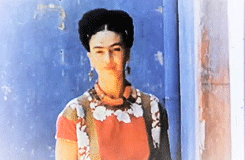 You know how things are meant to be – like all the signs are there and everything clicks into place? I happened to have the time free, plus I had airline credit to cover my flight. I called my friend, Rose, from Dulce Vida Travel and explained my situation.
"I'll put a trip together for you!" she cheered. And then I asked a couple of friends and they both agreed to join us on this crazy, last-minute adventure.
I'm going to do a separate post on all things Frida, but here is my first post about the trip.
Mexico City
We had such a great time and I gathered even more research. I made that first deadline, and the second in January. It was around then that the first samples of the graphics came together, and the first version of the cover.
I had an approved selection of photos, plus the ones I took on my trip – and then I had all my research. From there I had to find a way to line up the page spreads.
There are no chapters. The book is very organic and loose. You can open it up to any page and find a standalone entry about Frida. Whether its a quote or a piece of trivia. I didn't add in any editorial angles, I let Frida's life, work, and personality lead the way.
What really brought it together were the graphics. The designer did such a beautiful job bringing every page to life! Another round of edits and proofing and we were done.
We did it!
Waiting!
After everything was turned in, we waited months for printing. Then the day arrived when I saw a copy of the book in a photo on my editor's desk. Two days later, my box of author copies arrived! Everything else happened so fast!
Our Phoenix Fridas event (and Frida's birthday) was on Saturday, July 6th and my publisher allowed us to sell books before the official release date. I signed more than 100 copies at the event!
Tuesday, July 9th was my official pub day – the birthday of the book. It was the day when everyone received their book in the mail from preorders and wow, my Instagram was poppin! I spent all day replying to the kind people who tagged me, sent me messages – all in honor of Frida!
https://www.instagram.com/p/BzuNmXCgHMp/
https://www.instagram.com/p/Bzt_iBignK2/
https://www.instagram.com/p/Bzt4aMUAt04/
https://www.instagram.com/p/BztpMFBn6WU/
https://www.instagram.com/p/BztDuUogNrH/
https://www.instagram.com/p/BzlN2yXHIcD/
It makes me happy to hear from different people from all different backgrounds and ages who are reading this book! I went to bed last night with a happy heart, with Frida on my mind. Hopefully Frida, wherever she is, is proud. Thank you to everyone for all the support!