https://www.instagram.com/p/ByvilEMn0lC/
It's hard living in Phoenix when ConchaCon is happening in Los Angeles! ConchaCon is a one-day festival celebrating everyone's favorite crumbly round pan dulce – the concha!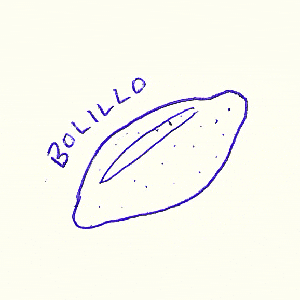 So imagine my internal screams of delight when event organizer, Marcella, invited me to demo at the event, as well as vend and participate in the Concha Fashion Show. Because it was such a big feat, I invited The Phoenix Fridas to join me on the adventure.
We knew it was meant to be when Chevy came through and offered us a sweet ride to get us there in style. A 2019 Chevy Blazer!
Worry set in at first because five of us were attending, plus our luggage, vending merchandise AND the dress and massive headpiece for the fashion show.
But guess what? We all fit perfectly and even had room to spare. We loaded everything up and went on our way. Not only to ConchaCon, but also to Mi Vida in Highland Park for a book signing and pop up.
Let me back up a few weeks. Here is my work table making concha-themed mugs and boxes to sell. The key to having a successful booth at ConchaCon is to have concha goodies!
Once we all packed everything in, we punched in our destination and let the car's GPS take it from there. It was super simple to connect an iPhone to the car, although we ended up talking most of the way. The drive time went very smooth and very fast.
The touch screen made it even easier, and the transmission – 9-speed automatic, electronically-controlled.
Once we made it to Los Angeles, we stopped at the craft store to buy supplies to make even more concha merchandise to sell! We turned the floor of the hotel room into a crafty command center. Or at least, Sabrina, Luisa and Annalisa did. I konked out on the couch!

Thania had to work, so she offered good energy while the crafting commenced!
The craftermath!
The next day we loaded up again and head to the event space! We set up and were ready for the crowd!
And boy was there ever a big crowd!
Here I am after my demo session, which we also livestreamed on my Instagram.

Here are some other pictures from that day!
https://www.instagram.com/p/B0hsuasgyse/
https://www.instagram.com/p/B0WXkaTnplg/
https://www.instagram.com/p/B0FXTh7gZHX/
https://www.instagram.com/p/BzcIVwugn6j/
https://www.instagram.com/p/BxJExhank5g/
https://www.instagram.com/p/BzJuV0wnIBk/
https://www.instagram.com/p/Bz-6DwGH8xv/
The highlight and grand finale of the day was the Concha Con Fashion Show where different designers presented wearable outfits inspired by conchas!
Here was out Phoenix Fridas contribution. Luisa of AzLotusArt painted the dress and Sabrina of AwkwardMamiArt made the fabulous headdress that Maya modeled on stage!
The inspiration for the ConchaCon dress is to show how eating these pastries together with friends is one of the joys of life. At the front of the dress is a sacred heart-shaped concha with rays of light. 
Conchas represent community because they bring people together to celebrate the sweetness of life!
It's also a homage to "Pocha Concha" one of Maya's nicknames at Pero Like.
Here is a video recap from Mas Masa about ConchaCon, check it out!
When the day finished, we jumped back in our Chevy Blazer and hit up Porto's in Downey.
I had a book signing and we all vended our wares!
The day went by so fast, we had such a great crowd all day, then we had to load up and head for home.
Random tidbit
See my cute tote on the bottom right? I had just bought it a couple of weeks earlier and everywhere I went, people asked me about it. Well, here is a sad story. While at ConchaCon, I used this tote to hold some of my purchases. I came home and set the tote in the garage. Three weeks later, I went to empty it and I forgot I had bought a Chile Tamarindo Candy apple. The whole thing melted all over the bag and ruined it. CRIES. Luckily, while typing this, and dabbing away yet another tear, I looked up the bag on the Kohl's web site and was able to buy another!
Anyway!
Time for home!
Here are some of our favorite features about the Chevy Blazer. It has a charging station for your smartphone in the front, compartments for storage, drinks and is keyless.
Once you start using it, you'll notice the rear-facing camera that comes in handy the ins and outs of parking.
Having these features seamlessly be a part of the vehicle gives a strong sense of comfort because it feels like the car is always there is to assist for a safe and sweet ride.
You can see the full details of the Chevy Blazer here.
I love how the seats have different segments that can be shifted to make room for different sized objects. I still can;r believe all five of us, plus a table, our luggage and merchandise to sell and fit in here!
Check out this last photo.
This is after everyone left for home. The next day I went outside to find a solitary rose on the ground, right outside the car door. A happy memory of an exciting weekend!
Thank you so much to Chevy for this opportunity – and to the teams at ConchaCon and Mi Vida for inviting us!
#FindNewRoads
#ChevyBlazer