These DIY pop-up cards are absolutely perfect for so many things – using up excess paper craft supplies, bonding time with family in your house during our current quarantine, or just allowing yourself to be creative! I love these because they give a fun little surprise when you open the greeting.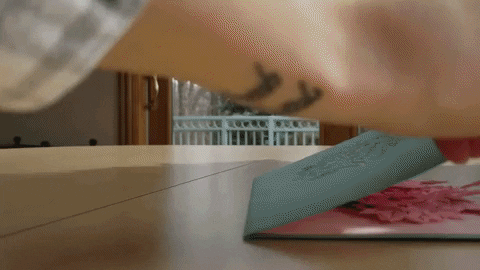 Okay, maybe not that fancy, we're just learning, but we can get there eventually!
Check out my video for DIY Pop-up Cards!
I made DIY pop-up card kits that I'm selling in my Crafty Chica store, but you can make your own version using your own supplies! I like to buy the bulk box of blank cards when they are on sale, or you can cut your scrapbook paper to fit. You can even check out the dollar bins at the craft store for blank cards, and then just decorate them over the front design, no one will know!
Here's how to do it!
Supplies for DIY Pop-Up Cards
Blank cards
Assorted papers
Embellishments: I used cling stamps and dies to create fun designs to decorate the cards. I also used colorful magazine pages as flowers (used a die cutting machine)
Dry adhesives: You can use any kind of glue, but I really like using dry adhesives for cardmaking. Less messy!
Washi tape: If you don't have washi tape on hand, you can cut skinny strips of scrapbook paper, or even decorate thin masking tape!
Scissors
Directions:
Take one card and cut two snips at the top of the outer fold.
Open the card and poke the notch so it points out inside the card.
Close the card and press to crease.
Add glue dots and affix one piece of paper at the top to cover the notch.
Add more paper and washi tape to your liking.
Add center image and add accent flowers or gems using glut dots.
Open the card and add a glue dot ONLY on the bottom part of the notch, attach an image towards the TOP of the notch so the card opens and closes easily.
NOTE: Once you get used to it, you can cut several notches at different lengths and use more images for a dimensional look.
Check out this technique! Whoa!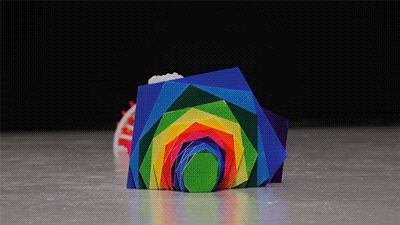 That's it! Let me know if you make these pop-up cards!
Here's the link to my DIY Pop-Up Card Kits, each one has supplies to make two cards, but you'll actually have enough supplies to make more!